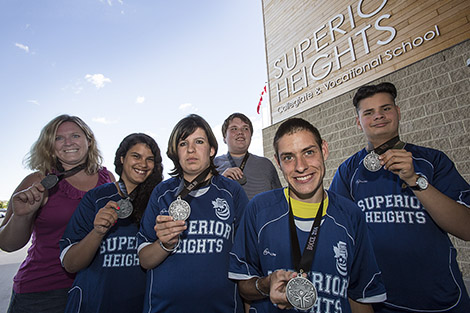 Sault Ste. Marie has some new medalists to be proud of, after a team from Superior Heights Community Education Program won silver medals in bocce at the Special Olympics Ontario.

"It was a great opportunity for the kids," said Nancy Smail, who acted as coach and teaches the students in the program.

All of the students are developmentally delayed and the program prepares them by teaching functional academics involving time, money and other real-life situations.

"We role play a lot of real-life situations here, we do laundry here for the bistro and the sports teams. We do jobs here so that when they graduate at 21 they have some skills. Some will live independently, some won't," said Smail.

The students qualified for the Toronto event by winning their bocce event during a Northern Ontario tournament, hosted by Superior Heights.

For many of the students, the trip to Toronto was their first time away from home and four of the five students had never been on a plane before.

Two weeks before the trip, Smail took the students on a field trip to the airport to watch the planes take-off and land and practice going through security.

"We calmed a lot of the travelling fears by doing the tour ahead of time," said Smail.

Although they qualified for the Special Olympics Ontario in the fall, the students became even more excited for the competition after watching the Winter Olympics.

"The kids really made the correlation between curling and bocce. We watched Team Jacobs do curling through the Olympics and a lot of them made the connection," said Smail.

The students even used strategies they learned watching Team Jacobs, such as setting up guards to protect their other balls in order to score more points.

"Big Mike, when he got his medal he said 'Just like Team Jacobs,'" said Smail.

The students came back from the tournament thinking they had won bronze, but through a scoring error had actually won silver in their division.

This was the first time the Superior Heights Community Education Program had sent students to the Special Olympics Ontario, but Smail would love to do it again.

"It was like taking my own kids to see something for the first time," said Smail.
(PHOTO L-R Teacher Nancy Smail with student athletes Alyssa Mearow, Zeegwon Steven, Mike Kennedy, Brandon Fortin and Robert Sayers seen June 16, 2014 displaying the silver medals they won recently at the Special Olympics Ontario held in Toronto. SooToday.com/Kenneth Armstrong)