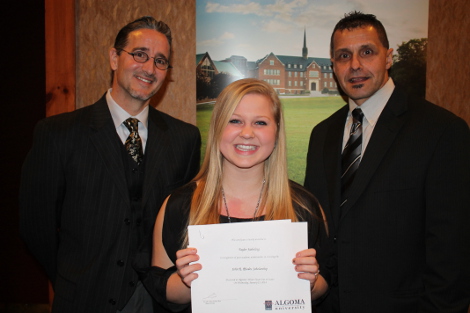 Algoma University staff and faculty, joined by supporters of the Algoma University Foundation's Scholarship and Bursary Program, honoured Algoma University students who have achieved academic excellence over the past year at the 20th Annual Algoma University Student Awards, held at Algoma's Water Tower Inn Wednesday.
Students were awarded scholarships and bursaries for their efforts from a host of supporters.
In some cases the awards are entrance awards, given to first-year students based on academic achievement and involvement at the secondary school level.
First-year Algoma student Taylor Jaehrling, pictured with Algoma University Academic Dean Dr. Arthur Perlini and Registrar David Marasco, received the John R. Rhodes Scholarship.
The John R. Rhodes Scholarship was established in 1979 through donations from friends and family of the late John Rhodes.
The scholarship is valued at $3,000 and is offered each year to a student entering their first year of university studies from secondary school who has demonstrated "academic achievement and community leadership while involved in political, social, or academic activities."
It is renewable for up to three additional years providing the recipient maintains a minimum average of 80 percent each academic year.
18-year-old Jaehrllng, a White Pines Collegiate graduate, excelled in her studies in high school and served as President of the White Pines Student Council for two years, and was also involved with Action for Building a Community that is Drug Free (ABCD).
She is currently enrolled in Algoma's Community Economic and Social Development (CESD) program.
Jaehrling told us: "My father (Norm Jaehrling, formerly of the Sault Ste. Marie Economic Development Corporation) is a community development officer and I've seen what he does for small First Nations communities."
"He's really passionate about it, and that's exactly what I want to do, is travel and help people."
Jaehrling added she plans to get involved in leadership roles at Algoma and hopefully study abroad as well.
At Wednesday's ceremony, Algoma University President Dr. Richard Myers told SooToday.com: "Not only do we honour the students, but we're also able to thank the donors who have made these awards possible."
"Some of them have been supporting us for years, and this is a chance for them to see the students who are benefitting from these awards."
A news release issued by Algoma University follows.
****************************
20th annual Algoma University Student Awards

SAULT STE. MARIE - Algoma University's staff and faculty, as well as the supporters of the Algoma University Foundation's Scholarship and Bursary Program, will celebrated the academic achievements of its students tonight at the 20th Annual Algoma University Student Awards at The Pavilion at Algoma's Water Tower Inn from 5-7 p.m.

"The students we are recognizing tonight are among our best and brightest," said Dr. Richard Myers, president of Algoma University. "These students have worked hard this past year to achieve academic success, and tonight we celebrate their accomplishments. Tonight is also an opportunity for our donors to see the benefit of their generous contributions to the University and our students."

The annual student awards ceremony and reception acknowledges the academic accomplishments of Algoma University's students.

It highlights the importance of financial awards and community support and provides students with the chance to express their gratitude to the donors who make the awards possible.

Here is a complete list of the 2013 Student Award winners:

ENTRANCE SCHOLARSHIPS

Edward and Frank McGrath Award of Excellence

Leah Hodgson

Carl J. Sanders Scholarship

Andrew Vanderburg

Peggy and Willmont MacDonnell Scholarship

Joshua Egerland

ALGOMA U AWARDS OF EXCELLENCE

Purvis Marine and Palmer Construction Group Platinum

Tyler Wilding

PUC Services Inc. Gold

Brendan Fera

Algoma Financial Group and Pino's get fresh foods Gold

Tyler Harris

Algoma's Water Tower Inn and Suites Silver

Miranda Klimowski

Algoma U Awards of Excellence-PLATINUM

Emily Boylan
Kiaya Lendt
Justin-Peter Stefanizzi
Samantha Charlebois
Pooja Luitel
Gabriella Travaglini
Taylor Cleminson
Ryan Pelletier
Tuesday Verslype
Sean Cook
Mahnoor Saeed
Courtney White
Joshua Gibbs
Adelle Staples
Anastasia Zagordo

Algoma U Awards of Excellence-GOLD

Ryan Alcock
Levi Demour-Iozzo
Karina Maione
Leon Barbeau
Zachariah Dose
Sarah Nadon
Amanda Bell
Alyssa Dovigi
Mathew Pettenuzzo
Justin Bertolissi
Emily Gapp
Jesse Principe
Daya Bhogal
Jennifer Gillies
Mistaya Strom
Fabio Campioni
Karen Harasymiw
Brandon Verrino
Janique Danis
Stephanie Harris
Colin Zorzit
Sydney Davies
Stephanie Jennings

Algoma U Awards of Excellence-SILVER

Alyshia Armstrong
Sarah Eddy
Frances MacInnis
Lillian Bacon
Alecia Finateri
Jessie Macmaster
Karissa Barbarie
Samantha Friyia
Jessica McMillan
Brent Beaulieu
Britt Gallo
Dasan Naylor
Kayla Boyer
Robert Harrison
Samuel Puddister
Heidi Brauner
Brittany King
Kelsey Ruessink
Kian Brooks
Karalynn Krause
Morgan Thomas
Emma Deakin
Taylor Langlais
Danielle Zacchigna

John R. Rhodes Scholarship

Taylor Jaehrling

Corporation of the City of Sault Ste. Marie Admissions Scholarship I

Robert Brown
Michelle Lewis
Erinn Tuomi
Karl Weise
Jonathan Wilson

Algoma University Alumni Entrance Award I

Sean Cook

Algoma University Alumni Entrance Award II

Kerry Moir

Algoma University Alumni Entrance Award III

Rosanne Grbich

Algoma University Alumni Entrance Award IV

Samantha Charlebois

Lions Club of St. Joseph Island Scholarship Award

Sarah Stubbe

Algoma U Diploma Recognition Awards of Excellence I

Jessica Belliveau
Marlene Henry
Hillary Pearse
Brittney Drouin
Erica Kennis
Kylie Pratt
Tonia Dumouchel
Sara-Lynn Lepore
Garth Roussel
Katrina Fernandes
Misriya Marshi
Matthew Yablonski
Janine Gibbs
Kelsey Miller
Jennifer Zahrebelny
Kenisha Grant
Suzette Mullings
Rosanne Grbich
Jenna Murray

Algoma U Diploma Recognition Awards of Excellence II

Sheldon Allen
Nathan Chauvin
Uzma Mahmood
Kayla Anglehart
Erica D'Orazio
Khyandra Schroeter
Ahmeed Bitar
Queensly Irehovbude
Nicole Solis
Stephanie Boisvert
Sandra Jarguz
Juliette Wemigwans

Algoma U Diploma Recognition Awards of Excellence III

Christina Bailey
Brandon Gaudette
Craig Meawasige
Melanie-Kay Beaucage
Terri Glave
Jessica Thibault
Samuel Ciengkuach
Pran Karmakar
Daniella Trevisanutto
Mohamed El-Chanati
Kelly Louttit

Gabriel Barban, P.Eng. Bursary

Tyler Wilding

Paul and Bricken Dalseg, Pioneers of Lake-Of-The-Woods, Student Award

Juliette Wemigwans

Rotary Club of Sault Ste. Marie

Laura Crosson
Chelsey-Ann Waddell

The Hon. Ray and Mary-Kay Stortini Bursary Award

Amanda Bell

The Hon. Ronald A. Irwin Student Leadership Bursary

Felicia Naccarato

Tilt Tammik Music Scholarship

Colin Zorzit

ALGOMA U CONTINUING SCHOLARSHIPS

Edward and Frank McGrath Awards

Madeleine Brodbeck

Carl J. Sanders Scholarship

Connor Flood
Megan Sherwood

Peggy and Willmont MacDonnell Scholarship

Jonathan Krotkiewicz
Jenna Thompson

Algoma U Award of Excellence-PLATINUM

William Skylar Barth
Sarah Hollingsworth
Ashley Sheppard
Ashlie Culina
Selina Hunt
Riley Smith
Victoria Foglia
Tina Newell

Algoma U Award of Excellence-GOLD

Joel Aikens
Spencer Edgar
James Ruckstuhl
Eden Alessandrini
Kelsey Greer
Jessica Schell
Laura Beach
Samy Mohamed
Jacob Smith
Elizabeth Brandeau
Jessica Morin
Kristen Soucy
Cynthia Burmaster
Laura Nanni
Austin Williams
Sarah Byrne
Jennifer Pearson

Algoma U Award of Excellence-SILVER

Stephanie Babcock
Jessica Guthrie
Shannon Luke
Kassidy Bailey
Daniel Harasymiw
Brandon-Lee MacKinnon
Jamie Boissonneault
Kara Hughes
Jonathan Natale
Mekaela Comery
Daniel Imre
Tayler Pino
Daniel Friyia
Catherine Lambert
Brittany Richard
Sarah Grupp
Stacey Laplante
Ian Rowlinson

Corporation of the City of Sault Ste. Marie Admissions Scholarship I

Benjamin Amond
Frederick Ford
Ashley Hunter

Algoma University Achievement Awards

Jamie Beith
Abdulaziz Mohammad Ghani
Tegan Rogers
Diandra Bellerose
Shauna Major
Olusola Soetan
Corey Ellah
Julia Mancuso
Noelle Stratton
Amanda Fluke
Sophie Nash
Elizabeth Thompson
Gabrielle Fogg
Kathleen Oliver
Andrew Wilson
Jordan Fresque
Riki Olszewski

Business and Professional Women Scholarship

Riki Olszewski

Bud and Anne Wildman Scholarship

Nina Kent

G. Verdi and Princess Marie José Lodges Order Sons of Italy of Canada Scholarship

Jamie Beith

Gladys McNeice Award

Ian Rowlinson

John Deakin Buckley Walton Scholarship

Julia Mancuso

John Hayes Jenkinson, B.E.M. Memorial Scholarship in English and History

Elizabeth Brandeau
Austin Williams

Judge John Hays McDonald and Mrs. Vera McDonald Memorial Scholarship

Ian Rowlinson

Kenneth and Colleen Moodie Scholarship

Shauna Major

Leonard Savoie Scholarship

Lauren Olar

Shingwauk Anishinaabe Student Association Scholarship

Diandra Bellerose
Lyndsay-Lee Waddell

Soo Mill and Lumber Company Scholarship

Carlee Wilson

The Kresin Engineering Scholarship for Math and Science

Seamus Jenkin

The Very Reverend Meletios Christoforou Scholarship

Sarah Hollingsworth

William M. Hogg Scholarship

Seamus Jenkin

CONTINUING BURSARIES

Alexander M. Ross Bursary Award

Shauna Major
Kathleen Oliver

Askin Family Bursary Award

Kelsey Burns
Anniesa De Brou
Karissa Kajorinne

Brookfield Power First Nation Environmental Science Student Award

Erin Miller

Christine Paquette Bursary

Jessica Ivison

Dr. Jong You CESD Student Bursary

Nina Kent

Dr. Robert V. d'Amato Student Award

Leo Moore

Edward and Frank McGrath Awards

Zartab Alam
Kyle Karalash
Olivia Pietrangelo
Emily Cain
Michael Maniacco
Leah Senecal
Heather Dukes
Patricia McGonigal
Samuel Warner
Jessica Ivison
Jamal Muckett-Sobers

Elsie Savoie Fine Arts Award

Stephanie Babcock
Gabrielle Fogg

ESSAR Steel Inc. Student Award

Connor Flood
Megan Sherwood

Gerald E. Nori, Q.C. Student Awards

Alissa Begin
Amanda Lindi
Anniesa De Brou
Samuel Warner
Karissa Kajorinne

Gloria Jean Grossett Student Award

Emily Cain

Great-West Life Assistance Fund for Indigenous Students

Diandra Bellerose
Nina Kent

Great-West Life Student Assistance Bursary

Corrina Hodgkinson
Jasmine O'Connor

Johanna Bischoping Bursary

Beatriz Abad
John Patrick Lee
Alissa Begin
Abdiladif Mohamed

John Rowswell, M.Eng, P.Eng, P.E. Bursary

Connor Flood

Katherine Jean Dunster Student Award

Heather Dolan

Kiwanis Club of Lakeshore

Sarah Sponchia

Living Learning Student Assistance Fund

Samy Mohamed

Métis Nation of Ontario Bursary

Diandra Bellerose
Megan Gjos
Kristal Strawbridge
Cory Caple
Jocelyn Moreau
Chelsey-Ann Waddell
Mitchell Case
Bernadette Pizzey
Lyndsay-Lee Waddell
Kimberly Cavanagh
Taylor Smith

OSSTF District 35 - Algoma U Support Staff Bursary Award

Kelsey Burns
Michael Maniacco

Retired Teachers of Ontario - District 3 Algoma

Kyle Karalash

Royal Canadian Legion Branch #25 Achievement Award

Jamie Beith (Computer Science/Information Technology)
Emily Cain (General Arts)

Royal Canadian Branch #25 Veteran's Award

Christine Frenette

Sault Recreation Hockey Association Fun Through Recreation Award

Leo Moore
Corey Ellah

Sault Ste. Marie Zonta Foundation Student Award

Patricia McGonigal

Shingwauk Aboriginal Students Association Student Award

Erin Miller

Students Helping Students Bursary

Jacqueline Ayotte
Heather Dolan

Supporting Science and Technology Bursary Award

Jamie Beith
Jamal Muckett-Sobers

The Hannah Lois Morris Bursary

Heather MacLary

The Henry Lang, Q.C. and Mrs. Helen Lang Law and Justice Bursary

Amanda Lindi

USW Local 2251 Student Award, Established by John Kallio

Jacqueline Ayotte

Tulloch Engineering Student Award

Olivia Pietrangelo
****************************