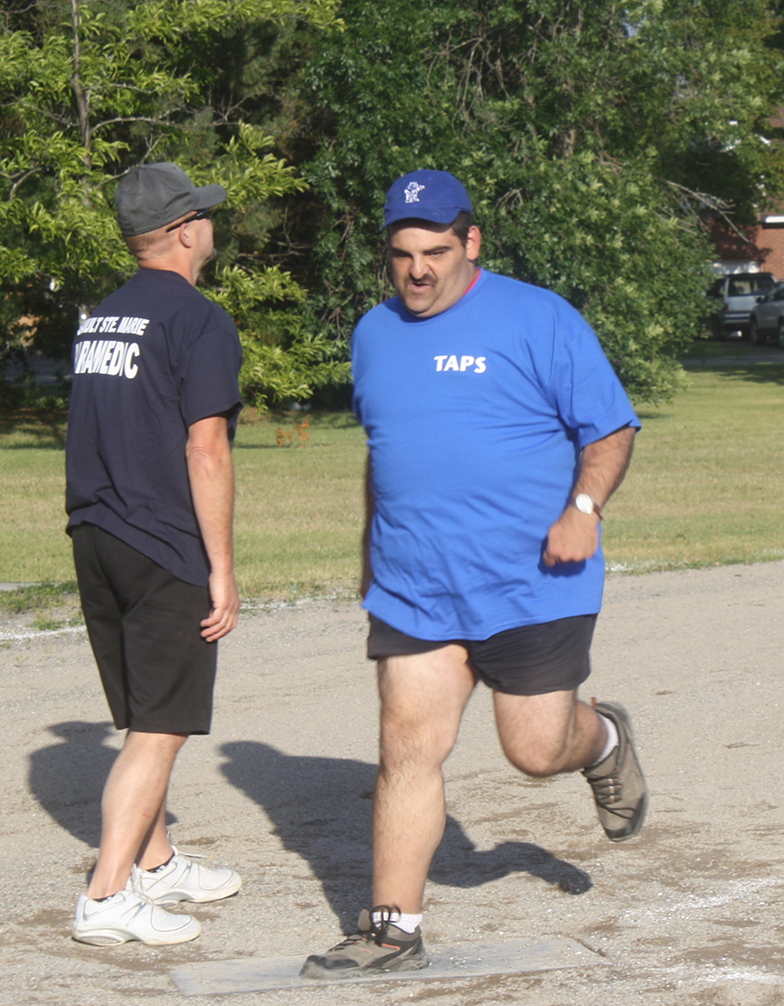 Jason Hebert (shown) has been the terror of Sault Ste. Marie Police and Fire Service (SSMPS and SSMFS), Public Service Workers (PSW) for over a decade and, on Wednesday, he introduced the Sault's Emergency Medical Services (EMS) Technicians to his home-running awesomeness.
Together All People Shine, or TAPS, has been playing ball with different branches of the Sault's first responders since 1997, says team founder, coach and organizer Ben Pritchard.
Recently TAPS added PSWs to it's list of conquests and tonight team TAPS annihilated team EMS.
"We started getting together because some of them weren't able to qualify for the Special Olympics but they still wanted to play together," he said as the whole TAPS team roundly educated the unprepared EMS team.
"It's all for fun. We don't even keep score," Pritchard said as Hebert belted the ball out to the outfield and took off like a pro.
He tagged first base and passed the runner that was on first base.
Hebert breezed across second and then third base and passed the runner that was on that base, too.
He hit home base with the other two runners behind him just in time for Pritchard to finish his sentence.
"We play for health and the opportunity to socialize," he said. "Some players have been playing a long time."
He also confirmed that Hebert was one who has been playing since the early days of TAPS.
Apparently Hebert had learned a thing or two during those years.