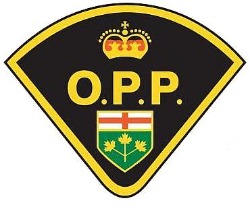 Ontario Provincial Police say a man and a woman who had barricaded themselves in a Batchawana Bay residence were arrested without incident shortly after noon today.
The incident began last night with what OPP describe as a "criminal occurrence" in Thunder Bay.
OPP say the same vehicle, a grey Ford F150, was involved around 10:20 p.m. in an alleged gas theft from a gas station in the Marathon, Ont. area.
OPP say officers deployed a spike belt at the Batchewana River Bridge after the vehicle was observed headed toward Sault Ste. Marie.
OPP say the vehicle continued south for roughly 20 kilometres before coming to a full stop.
The male driver exited the vehicle with a firearm and both he and a female passenger fled on foot into the bush, say OPP.
A canine unit and emergency response officers tracked the suspects to a camp in the 6,000 block of Highway 17 North, where they pair had barricaded themselves.
Const. Monique Baker said she could not confirm whether the suspects were armed during the barricade, which also drew Sault detachment members, and a tactical rescue unit from Orillia.
The investigation into the incident is ongoing and charges are pending, said Baker.
Earlier coverage:
Ontario Provincial Police have confirmed one person is currently barricaded in a residence along Highway 17 between Harmony Beach and Old Mill Bay.
OPP could not immediately confirm whether a firearm is involved.
On scene are an OPP emergency response team, detachment members, and tactical rescue unit from Orillia.
The incident began last night and is believed to have stemmed from the theft of gasoline from a gas station in Marathon, Ont., said an OPP spokesperson.
A high-speed chase did not occur, but police did deploy a spike belt to stop the vehicle, a grey Ford F150.
No injuries have occurred and there is no danger to public safety, said OPP.
Highway 17 is not closed.
The residence is in the 6,000 block of Highway 17.
Earlier coverage:
Several readers have contacted SooToday.com to report a police manhunt north of the Sault after what one caller described as a high-speed chase.
A reader contacted us this morning to report what appears to be an ongoing armed standoff at a seasonal home in the Old Mill Bay area.
The Sault Ste. Marie Detachment said earlier this morning they could not immediately confirm the incident.
A media release is expected later today.
A witness reported at 11 p.m. police were involved in a high speed chase with a south- bound Ford F150 between Havilland and Harmony and that a spike strip was deployed but failed to stop the vehicle which continued with at least two tires blown out.
A witness at the scene described gouges in the pavement that continued about six kilometres beyond the spike strip.
The vehicle was seen on the side of the road and police were searching the area at 2 a.m.
A witness said police stopped vehicles passing through the area and warned motorists not to pick anyone up.
Another witness reports police conducted a house-to-house search looking for two males.