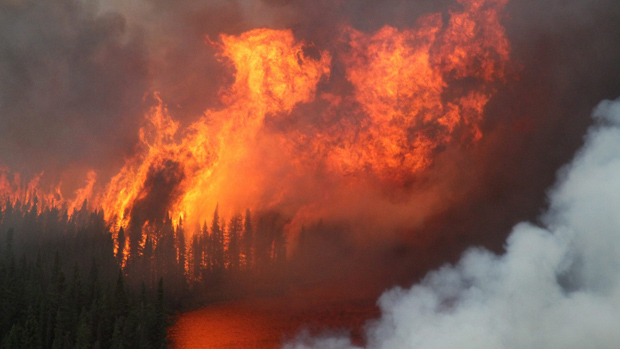 NEWS RELEASE
MINISTRY OF NATURAL RESOURCES AND FORESTS
*************************
Forest Fire Situation Update: Northeast Fire Region
Yesterday there were two new fires reported in the region.
North Bay 13 is being held at 0.3 of a hectare and Parry Sound 12 is now out at 0.1 of a hectare.
So far today, one new fire has been reported.
Sudbury 73 is not yet under control at 0.1 of a hectare.
There are currently 13 active fires in the region, two are not under control, two are being held and nine are being observed mostly in the far north.
The fire hazard today is low across most of the region except for Sault Ste. Marie to the Greater Sudbury area as well as Algonquin Park, these regions seeing a moderate hazard.
Fire of Note
Fire Sudbury 38 is not under control at approximately 438 hectares.
This fire has received some rain the last few days which has helped fire crews make good progress in containing this fire.
By days end, we are expecting to have fire 21 crews assigned to this incident.
Our Incident Management team is now in place with base camp operations already underway.
With the weather we saw over the past few days and with the hard work of ground crews, the fire did not see any significant growth August 4.
At this time, the fire is about 50 percent contained.
Please read the Emergency Area Order information below for details of restrictions in the area.
Emergency Area Order
Effective 4 p.m. Friday July 31, 2015, an Emergency Area Order has been implemented for an area north of Sudbury, northeast of Halfway Lake Provincial Park in Northeastern Ontario.
The order covers an area around the Sudbury 38 wildfire, located east of Highway 144 as depicted in this map.
While the Order is in effect, road closures and travel restrictions may occur.
Putting the order in place is a precaution that allows the ministry to move quickly to restrict access to areas being threatened to protect public safety.
This could involve closing roads to prevent the movement of people into the area.
It also means that people may be asked to leave an area if fire management personnel believe that the public is at risk from the threat of fire.
Ministry of Natural Resources and Forestry fire staff and conservation officers will strictly enforce the restrictions.
The following are the Implementation Orders Issued by the Ministry of Natural Resources and Forestry under Emergency Area Order 2015-01.
1. All travel on and use of any and all forest access roads and trails on crown lands in the Townships of Onaping , Scotia, Fairbairn, Dunbar, Emo, Rhodes, within the EAO is prohibited unless authorized by a travel permit issued by the Sudbury District of the MNRF.
2. The use and occupation of crown lands within the Townships of Onaping , Scotia, Fairbairn, Dunbar, Emo, Rhodes, within the EAO is prohibited.
3. The use and occupation of crown land in the townships of Frechette McNamara, Sweeney, Beaumont, Roberts and Botha within the EAO area will be allowed but user may be notified that immediate evacuation of the area may occur and must comply immediately vacating the area.
NOTAM #150665 is in effect for the Sudbury 38 fire within the Emergency Area Order. Please refer to Transport Canada's website for more flight details on the NOTAM.
Out of Province
Supportive firefighting efforts in western Canada continue. Currently there are 118 fire management personnel from Ontario in British Columbia (57) and Saskatchewan (60). We also have one technical specialist working with the Canadian Interagency Forest Fire Centre(CIFFC).
Ontario is also providing equipment including fire hose, sprinkler kits, pumps and chainsaws to Alberta, British Columbia, Parks Canada and Saskatchewan.
The Aviation, Forest Fire and Emergency Services program is reminding people that they are responsible for safe outdoor fire management and must follow guidelines set out in the Forest Fires Prevention Act of Ontario including no day burning of brush or grass fires.
Campfires are to be tended at all times and put out before leaving.
For further tips on how to be FireSmart, visit: ontario.ca/firesmart.
For more information about the current fire situation and the active fires map: ontario.ca/forestfire.
Report forest fires by calling 310-FIRE (3473).
*************************
(FILE PHOTO Provided, does not depict any current forest fires in the area.)