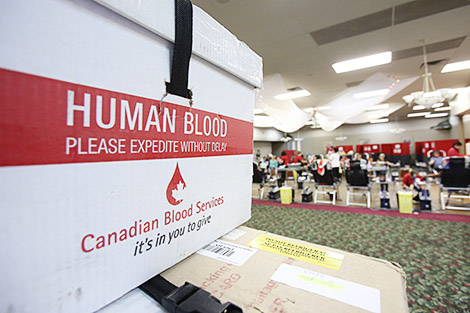 (SooToday.com stock photo by Kenneth Armstrong shows a 2013 blood donor clinic in Sault Ste. Marie at the Verdi Hall)
NEWS RELEASE
CANADIAN BLOOD SERVICES
*************************
31,000 appointments needed in the next three weeks
Canadians urged to give in January after winter freeze puts squeeze on blood collections
SAULT STE. MARIE - Extreme weather conditions across much of the country at the end of December and into the New Year have forced Canadian Blood Services to cancel 24 blood donor clinics.
Cancelled clinics have resulted in a lost opportunity to collect over 1,200 donations.
"It's been a stormy start to 2014. While we've weathered the storm by leveraging our national reserves to ensure patient needs are met, we now need Canadians to help replenish national supplies by booking an appointment and giving blood in January," says Mark Donnison, vice-president of Donor Relations.
Between January 13 and February 1, 2014, Canadian Blood Services forecasts 31,000 appointments need to be filled.
The recent clinic cancellations coupled with constant hospital demand, have also created an immediate need for more O negative and A negative blood donations.
"A blizzard may stop us in our tracks, but the need for blood keeps on going—especially when it comes to blood types that are in high demand, like O negative blood," says Mark Donnison. "When seconds count, someone's life is on the line and there's no time to check a patient's blood type, O negative blood is used."
Canadian Blood Services is urging communities from coast to coast to rally together now because it often takes many donors to help save someone's life.
Some examples of urgent situations where multiple blood donors are needed include:
Up to five donors to help someone through heart surgery

Between two and eight donors to help save someone with internal bleeding

As many as 50 donors to help someone seriously hurt in a car crash
How will you make a difference in 2014?
Resolve to save lives.
By donating blood, you are helping ensure a strong blood supply for Canadian patients this winter.
Our next clinic takes place at the Verdi Hall Wednesday, January 21 from 4 - 8 p.m. and Thursday, January 22 from 12 - 2:30 p.m. and 4 – 6 p.m.
To book an appointment, please visit
www.blood.ca
or call 1 888 2 DONATE (1-888-236-6283). Those with appointments are encouraged to keep that appointment and, if possible, bring a friend to donate with you.
About Canadian Blood Services
Canadian Blood Services is a national, not-for-profit charitable organization that manages the supply of blood and blood products in all provinces and territories outside of Quebec.
Canadian Blood Services also oversees the OneMatch Stem Cell and Marrow Network, and provides national leadership for organ and tissue donation and transplantation.
Canadian Blood Services operates 42 permanent collection sites and more than 20,000 donor clinics annually.
The provincial and territorial Ministries of Health provide operational funding to Canadian Blood Services.
The federal government, through Health Canada, is responsible for regulating the blood system.
To book an appointment or for more information, visit us at
www.blood.ca
or call 1 888 2 DONATE.
Follow us on Twitter at @itsinyoutogive
Visit our channel 18882DONATE
*************************