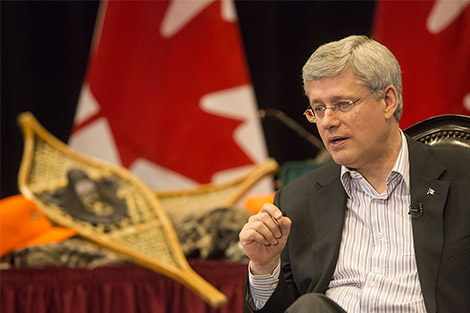 Conservation is a key element of the Conservative government's vision for Canada.
That was the message from Prime Minister Stephen Harper, speaking to a Sault Ste. Marie audience gathered at a moderated question and answer session held by the Ontario Federation of Anglers and Hunters Friday morning.
"Conservation is important to our government philosophically," Harper said.
"We create these things (conservation initiatives) so that people can truly appreciate the land which has given us our lives for so many generations."
"The record will actually show we have conserved, directly through actions of the Government of Canada and indirectly through the support of outside organizations, more land and wetland and marine areas than any previous government in Canadian history," Harper said.
"We have put $200 million of government money into these various projects and not to mention we're partnering with people who are bringing in their own resources such as the Nature Conservancy of Canada."
Harper referred to his government's National Conservation Plan (NCP).
The plan, which will spend $252 million between 2014 and 2019, consists of the National Wetland Conservation Fund (NWCF) and the Recreational Fisheries Conservation Partnerships Program (RFCPP).
Under the NCP, environmentally-conscious groups including First Nations, colleges and universities, conservation authorities, the private sector and provincial, territorial and municipal governments may apply for funding to partner with the federal government to carry out a wide range of conservation projects to protect lands and waterways across Canada.
Environment Canada is currently accepting applications from such groups.
"Through various programs we're engaging the fishing community in conservation to make sure we are in fact protecting our fisheries but not doing so in a way that makes it impossible to proceed with even the smallest infrastructure process," when asked about changes to the Fisheries Act.
The former Liberal government's long-gun registry, which the Conservatives scrapped, came up for discussion.
"I'm not a gun owner but it became very clear to me that this (the long-gun registry, originally designed to combat gun crime, but which turned out to be a bureaucratic, costly process) would be an expensive and ineffective policy that would inconvenience a lot of people."
"The vast majority of Canadian gun owners are firm advocates of sensible and effective gun control measures…we continue to move forward on efforts to crack down and tackle gun crime which we know is not in the main of hunters, it's illegally owned hand guns in urban areas."
The Conservative scrapping of the long-gun registry has been especially popular with voters in areas such as Sault Ste. Marie.
In regards to the Sault's economic outlook, Harper said, "I'm very optimistic about the prospects for rural and northern Canada."
"We're investing in core infrastructure, we've contributed here to planning for the harbour ($2 million for the planning and design phase of the Port of Algoma project for Sault Ste. Marie) and rehabilitation of some of the local rail systems, as well as highways."
"We're also making investments in skills development and innovation in both the universities and our local college systems that are so important in our small and rural regions, so I think all of these things will help open markets and sustain jobs."
The moderated question and answer session, led by Angelo Lombardo, Ontario Federation of Anglers and Hunters executive director, wrapped up with a thank you from Lombardo to Harper for a recent federal commitment of $17.5 million to help fight threats posed by invasive species to the Great Lakes.
Harper was accompanied by Sault MP Bryan Hayes, Robert Sopuck, MP for Dauphin-Swan River-Marquette and Jay Aspin, MP for Nipissing-Temiskaming.
The event was held at Algoma's Water Tower Inn & Suites.
Harper is scheduled to meet with members of the Conservative Party at 5:30 p.m. at the Delta Sault Ste. Marie Waterfront Hotel.
********************
CLICK HERE
to see a photo gallery from this morning's appearance, and
HERE
to watch video coverage from the LOCAL2 team.
(PHOTO: Prime Minister Stephen Harper seen speaking during a question and answer session at the Water Tower Inn on October 17, 2014. Kenneth Armstrong/SooToday)