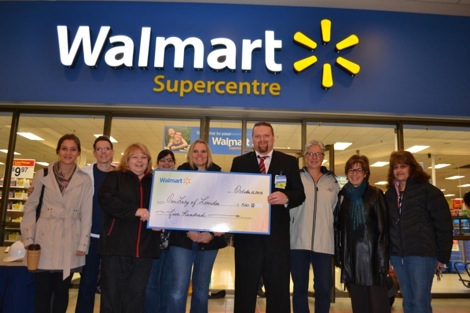 The doors opened for the first time at the new Sault Ste. Marie South Walmart Supercentre in the Station Mall yesterday morning.
Throughout the day things progressed very well - not perfectly but very well - said store Assistant Manager Wally Stubbs.
The brand new staff faced a test by fire as customers flowed into the store in an initial rush and then steady and heavy all day long.
That and there was a brief power outage in about mid-morning.
Of course the brand new staffers got to deal with finicky computers and cash registers all day after the power went down.
"Everyone performed very well," said Stubbs. "There were a few hitches but, overall, I'd call it a success."
He said he was proud of the team of staff at the new store and was confident they would give customers nothing less than the Walmart gold standard of service on an ongoing basis.
The opening of the new store was kicked off with the presentation of a couple big cheques to the new Station Mall Walmart's charities of choice, as well as cake and Wal-Mart's everyday low prices.
Among the most outstanding features of the new store is a small but well-stocked grocery section.
Now, downtown and area residents can shop for fresh produce, meat, fish and dairy products in a close to full-service grocery store with Walmart low prices from 7 a.m. to 10 p.m., seven days a week at Sault Ste. Marie Walmart South in the Station Mall.
Grand opening celebrations continue today with a Walmart Block Party from 11 a.m. to 4 p.m.
As reported earlier by SooToday.com, store patrons will refreshments and samples.
**************************
Pictured: Walmart (Station Mall) Manager Jake Pritchard with Our Lady of Lourdes staff - photo provided by Huron-Superior Catholic District School Board.