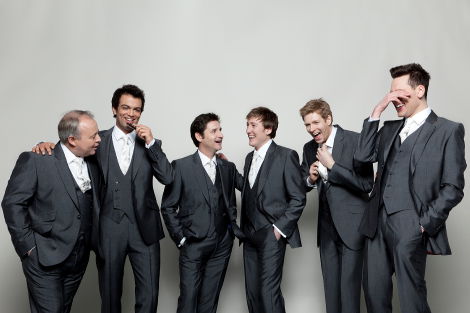 NEWS RELEASE
ALGOMA CONSERVATORY OF MUSIC
(AT ALGOMA UNIVERSITY)
*************************
The King's Singers
The Carnegie Hall Program
One of the world's most celebrated a capella ensembles, The King's Singers from England, will appear live in concert in Sault Ste. Marie on Saturday, February 23 at 7:30 p.m. at Kiwanis Community Theatre Centre.
They are consummate entertainers: a class act with a delightfully British wit.
Whether singing Bach, Bublé or the Beatles, they are instantly recognizable for their spot-on intonation, impeccable vocal blend, flawless articulation of the text and incisive timing.
With a discography of over 150 recordings, The King's Singers have garnered both awards and significant critical acclaim, including a Grammy® in 2009 for their studio album Simple Gifts.
The King's Singers perform across the globe in some of the world's most famous concert halls, including the Sydney Opera House, Carnegie Hall and the Berlin Philharmonie.
This past year's concert schedule took them to Australia, New Zealand, France, Germany, the U.S .and Canada, Bulgaria, Hungary, Italy, the United Arab Emirates, Switzerland and Finland.
Just a few days before their Sault Ste. Marie performance, the King's Singers will perform to a sold-out audience at New York's Carnegie Hall.
This concert is presented by Algoma Conservatory Concerts and tickets are available at the Station Mall box office (705-949-7299), at the door and online - adults $45, students $15.
For more information, please e-mail the Algoma Conservatory at algomaconservatory@algomau.ca
*************************