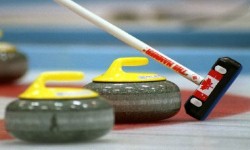 A pair of Sault Ste. Marie curling rinks will be in competition when the 2014 Ontario Winter Games opens up in Muskoka on Feb. 27.
On the men's side, Team Acorn, skipped by Brendan Acorn, from Soo Curlers defeated Tenner Horgan of the Idylwykde Curling Club 6-5 to win the provincial title at the 2014 Tim Horton's Bantam Provincial Curling Championships being held locally.
Acorn's team, which includes third Mitchell Harris, second Spencer Clark and lead Aaron Soulliere picked up steals of one in the third and two in the fourth to overcome a 3-1 deficit en route to the win.
Team Horgan of Sudbury features Sault Ste. Marie native Nick Servant as their third. The Horgan rink also advanced to the Ontario Winter Games as one of the tournament's top three teams.
On the women's side, Sudbury's Megan Smith beat Soo Curlers representative Katie Rutledge 5-4 in the final. Rutledge's team also features third Sara Guy, second Cynthia Furlotte and lead Emma McLean.
****
I500 IN THE BOOKS
Gabe Bunke of Moorhead, Minn. Won the annual International-500 snowmobile race, held in Sault, Mich. On Saturday.
Saturday's win marked the third straight year Bunke had won the title.
Ryan Faust finished second while Michael Haynes was third.
Bunke is just the second competitor to win the race three years in a row. Cory Davidson, who has won the race seven times, is the only other rider to have won the race three-consecutive years (1998-2000). Bunke's four I-500 wins are the second most all-time behind Davidson's seven.
****
SABERCAT COMMITS TO QUEENS
Sault Sabercats defensive end Palmer Simpson has committed to Queen's University for the new season.
Simpson was introduced to media in Kingston on Friday.
"I've been playing football since I was eight years old," Simpson told Kingston media. "I never could have imagined a day like today it's great to be a part of such a great team with great opportunities. It was a very easy decision the coaches were so professional and respectable so it was a special moment when I first met the coaches. This is a great opportunity for me to start something new."
Queen's head coach Pat Sheahan spoke highly of Simpson in making the introduction.
"Today is a great day for Queen's and it is another great day for Sault Ste. Marie," said coach Sheahan as Simpson was introduced on Friday. "We've got an outstanding high school prospect and an outstanding student-athlete in every sense of the word. (Simpson) has excelled on the field and in the classroom so he very definitively fits our profile here.
"An outstanding football player who is hard-nosed, like the way they are when they come from Sault Ste. Marie and we've had several others. This young guy fought his way back from an injury and had an outstanding senior year, did a terrific job for his community team and I think he is going to be a real up and comer."