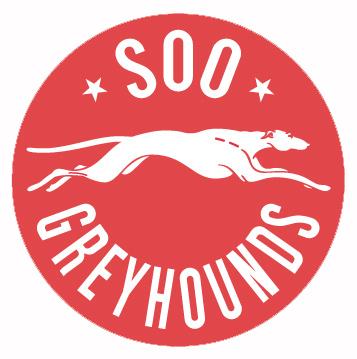 It was a tough start to a three-game road trip for the Soo Greyhounds on Thursday night.
The Greyhounds surrendered a pair of third-period goals as the Windsor Spitfires picked up a 4-3 win over the Greyhounds on Thursday night at the WFCU Centre in Windsor. The game marked the first of a three-in-three stretch for the Greyhounds, all against divisional opponents.
The Greyhounds opened up a 3-1 lead before surrendering three unanswered goals in the loss.
"We played well for two periods and we just let them back into the game in the second period when they had nothing happening for them and we had countless opportunities," said Greyhounds coach Sheldon Keefe. "We only scored two (in the second period) when I thought we could have had four or five, then we handed them life to get life to get back in the game with some soft play in our own end that gave them life."
Keefe felt the Greyhounds could have had a much bigger lead through two period instead of finishing 40 minutes up 3-2.
"When you give life to a team that already has confidence and has found ways to win other games, you're going to be in really tough in the third period and that's exactly what happened," said Keefe. "We had the game fully in hand and we let them back in. we could have stomped on them the way we did the last time we were here. Credit to (Windsor), they had a great third period."
Patrick Watling had a goal and an assist for the Greyhounds while Jared McCann and Tyler Gaudet also scored in the loss. Jean Dupuy returned to the Greyhounds lineup on Thursday night, picking up a pair of assists. The veteran forward had been out since Jan. 3 with a concussion. Matt Murray stopped 30 shots for the Greyhounds.
Keefe said that, despite the result, there were some positives in the loss.
"Through the better part of two periods, we played a structured game and they were playing a one-three-one trapping style and we dealt with that well," said Keefe. "We didn't give up very much in terms of chances against. We played that seesaw, chess match style overly well and struck when we had opportunities. We had a dominant second period with 20 shots on goal. Those were some positive things."
Remy Giftopoulos had a goal and two assists in the win for Windsor while Slater Koekkoek had a goal and an assist. Ben Johnson and Steven Janes also scored. Dalen Kuchmey stopped 39 shots for Windsor.
Keefe talked about the Greyhounds struggles of late in putting together a 60-minute effort.
"It's hard to put together three solid periods where you're really good," said Keefe. "You can't discount the fact that we're playing against very good teams. We're in a segment of the season here where we're playing teams, almost on a nightly basis, that are really good teams that are playing good hockey. They're going to have a push back. They're going to have their time in the game. It's all about how you manage that and how you stomp on teams when you've got them down. We're struggling with that in how to put teams away."
The loss drops the Greyhounds record to 35-13-1-4 and remain in top spot in the OHL's West Division with a nine-point lead over the second place Spitfires. The Spitfires record improves to 32-17-2-0.
The Greyhounds return to action on Friday night when they travel to Plymouth to take on the Whalers. The team ends their three-game trip on Saturday night in Saginaw against the Spirit.