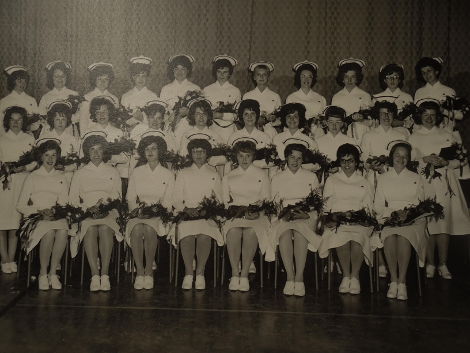 The sturdy, historic building where they once lived, trained and worked together has been gutted and being transformed by a Toronto-based condominium developer, but for a group of retired nurses who will assemble in Sault Ste. Marie for a special gathering in late September, that building will always be the Plummer Memorial Public Hospital.
Loyal SooToday.com reader Joanne (Bruni) Markle, a Sault native who now lives in Toronto, provided us with this photo of the Plummer's 1964 class of graduating nurses.
Be sure to click on the link at the bottom of this story to view the larger version of the photograph to see if you can spot yourself, a family member or friend as part of the Class of '64.
The nurses from the Class of '64 (several of whom already meet regularly for lunch in the Sault) will be holding a 50th anniversary reunion at the Sault's Delta Sault Ste. Marie Waterfront Hotel September 26 to 29.
"Our class was the largest class the Plummer Hospital had up to that point when we began in 1961, with 36 young women," Pat (Vetri) Story, one of the coordinators of the reunion, told SooToday.com.
It was a three-year program, and 29 graduated in 1964.
"We're expecting around 21 to attend, including nine from out of town, from southern Ontario," Story said.
Things were very different for nursing students 50 years ago.
"Back then, we received a monthly stipend of $6 the first year, $12 the second year and $25 the third year."
"All of our uniforms, books and supplies were paid for," Story said.
"On the other hand, we worked in the hospital as soon as we had sufficient knowledge to care for patients, and we were often considered part of the staff, especially during our senior year."
"Much of our learning was at the bedside of our patients but we had classes every day as well…we had to bathe six patients, make the beds, and do whatever other care was required by 9 a.m. so we could rush back to the residence for class," Story said.
All of the nursing students were required to live in residence in those days (which, in the early 1960s, was the Riverview building, which has now been demolished).
"Being together 24 hours a day meant we always had someone to talk to and lasting friendships were made."
"Our lounge was a beehive of activity after work for anyone who wasn't sleeping prior to going on a date that evening," Story said.
"We laughed and we cried together and we listened to each other's problems, giving advice or an empathetic ear."
Story recalls the hospital could not provide all the experience needed to qualify as a registered nurse, so the group would travel to Toronto in small groups.
The groups spent three months at the Hospital for Sick Children, followed by three months of training at a psychiatric facility, and a month at Princess Margaret Hospital.
"We made these trips by train, changing in Sudbury, and arriving in Toronto around 7 a.m., tired from being awake all night," Story said.
Most of the class spent the majority of their careers working at the Plummer Hospital in various departments.
A few left and pursued a variety of specialties within nursing, such as occupational health, community health, geriatrics, and psychiatry.
In regards to the 50th anniversary reunion for the Plummer Class of '64, Story told us there will be a reception and light meal at the Delta Friday, September 26.
Other events include a tour of the Sault College Nursing Lab, and two other group dinners.
Over the weekend, some will be taking the Agawa Canyon Tour Train, while others will enjoy visiting various spots along the Sault waterfront, such as the Canadian Heritage Bushplane Centre.
Story told us she has been acting as coordinator of the event, but three other classmates are doing their share.
Several colleagues, Story said, have pitched in to help arrange events and have offered donations of food and supplies.
"We've stayed close over the years through regular reunions, and there are regular class lunches for those of us in Sault Ste. Marie," Story said.
"We've supported each other through divorces, deaths, and other tragedies that have occurred over the years."
"Whenever we get together, it's like we haven't been apart, and we pick up right where we left off," Story said.
In the photo supplied by Joanne Markle, there is, front row, left to right, Marg (Patterson) Parraga, Roberta Gill, Sharon (Pettman) Wall, Lynda (Fawcett) Currie, Carol (Oliver) Hyde, Shelba (Stevens) Mullins, Joanne (Bruni) Markle, Carole (Routledge) Martin
Middle Row: Marg (Lewis) Jones, Helen Ann (Littleton) Betts, Marilyn (Ebert) Balan, Phyllis (Wilson) Lee, Doreen (Court) Pollard, Anne (McDonald) Pregitzer, Pat (Vetri) Story, Donna Campbell, Ruth (West) Hicks, Betsy (Bridge) Teare
Back Row: Marlene (Conrad) Harrington, Joyce (Stirton) Gagnon, Sandra Keown, Bonnie (Gernon) Aleixandre, Ruby (Tregonning) Scott, Ila (Cameron) Aho, Irma (Ritala) Diotte, Helen (Storey) Zavits, Marg (Tulloch) Doherty, Nancy Gilbert, Dorothy (Coté) Taylor