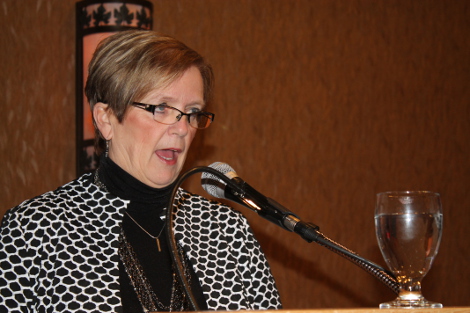 Sault Ste. Marie Mayor Debbie Amaroso was the keynote speaker at the Sault Ste. Marie Chamber of Commerce Annual Women in Business Breakfast, held at Algoma's Water Tower Inn & Suites Thursday morning.
Approximately 190 professional Sault women, representing a variety of sectors across the community, attended.
Also in attendance was a 'visible minority' of some professional Sault men!
Mayor Amaroso, elected as Sault Ste. Marie's first female Mayor in 2010 and winner of the 2013 ATHENA Award (an internationally-recognized award which honours an individual for professional excellence, community service and assisting women reach their professional goals), shared details with Thursday's audience concerning certain events and circumstances in her life, which she said have helped to shape her into the strong individual, successful career woman and political leader she is.
Mayor Amaroso said the sudden, unexpected loss of family members and friends throughout the course of her life, as well as other traumatic circumstances have, despite the sadness and difficulty involved, built a resiliency in her, along with a determination to achieve and live life to the fullest.
Her thought process, the Mayor told her audience, became "to build on my strengths."
For example, Mayor Amaroso said that she learned, at a young age, that she possessed good negotiation skills, something which she said she has utilized as Mayor.
"I know who I am, I know what I'm good at, and I know what I can improve."
Speaking to SooToday.com after her speech, Mayor Amaroso said: "I know that life is short and fragile and can be taken away from you in a minute, and you need to enjoy the time that you're here, and that creates that 'bounce back'…it's wallow and waste your time or enjoy every moment you have."
"Doing what you love to do with your life, that's what it's got to be about."
Sault Ste. Marie Ward Three City Councillor Pat Mick, in attendance for the Mayor's speech Thursday, encouraged more female candidates to step forward and get involved in running for political office.
With 2014 being a municipal election year in Sault Ste. Marie, and having already filed her papers for re-election, would Amaroso welcome a challenge for the title of Mayor of Sault Ste. Marie?
"The nice part of an acclamation is that you can keep your energy and focus on the job that is going on every day and you don't have that distraction."
However, Amaroso added: "The nice part about other candidates putting their name in the ring is that it shows a healthy interest in municipal politics, that people who feel they have the strengths to do that leadership role are out there and are offering themselves to the community."
"I'll certainly accept whichever one comes my way," Mayor Amaroso smiled.
"I've loved this term and I hope the community embraces that and thinks I'm deserving of a second term," Amaroso told us.
After her speech, the Mayor was presented with "Steeltown," a painting by Sault artist Jackie Janisse.
Born and raised in Sault Ste. Marie, Amaroso worked for 40 years in social services, and worked as Program Manager with the Ontario March of Dimes, and later, as Systems Navigator with the Red Cross.
Having also served on a number of boards and committees, including a stint as United Way Campaign Chair in 2005, Amaroso served as a Ward Five City Councillor from 1997 to 2006 before becoming Mayor in 2010.
Amaroso has a son and daughter, and recently became a grandmother.