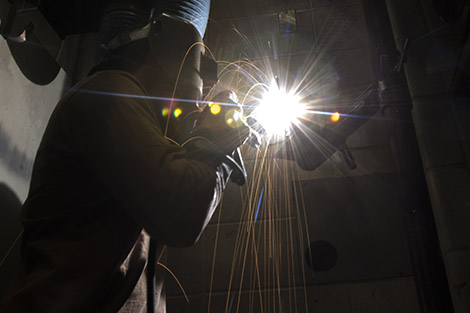 Ironworker apprentices from all over Ontario will take part in the Ontario District Council Apprenticeship Competition being held at Sault College on Saturday.

Apprentices spent Friday doing last minute cramming for the written and practical tests, the top three who place move on to the international competition this September in Toronto.

Six union locals across Ontario sent apprentices to compete in the events, which include rigging, rod tying, welding and climbing.

Armand Charbonneau, the business Local 786 in Sudbury was on-hand to observe the competition.

"You can't get on a job site or the bidders list if you don't have a really good safety record. That's what we are teaching to the apprentices, we want them to go home safe at the end of the day to their families," said Charbonneau.

Apprentice Dustin Elliott is competing for the second time and enjoys the competition.

"It lets you practice things we don't always do, like we don't do too much rebar time down here," said Elliott, who has one more term at Sault College before finishing his 6500-hour apprenticeship.

In the most physical event of the competition, apprentices will climb straight up a 35 foot column.

"It takes a bit of a cowboy. Every one of them has the adventure chromosome," says Sault College instructor Cory Burke, adding that an ironworker can't be afraid of heights.

During his apprenticeship Elliott has already worked on many job sites, but has one type of project in particular that he would like to work on.

"I want to build a bridge someday," said Elliott.
(PHOTO: Ironworker apprentice Dustin Elliott seen June 6, 2014 practicing welding prior to the Ontario District Council Apprenticeship Competition, which will be held at Sault College on Saturday. SooToday.com/Kenneth Armstrong)