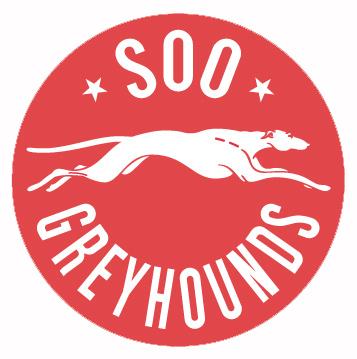 Welcome to SooToday.com's live blog of this evenings game between the Guelph Storm and Sault Ste. Marie Greyhounds at the Essar Centre.
The game begins a four-game homestand for the Greyhounds.
Continue to refresh your browser throughout the night for the latest updates from the arena.
****
9:43 p.m. Update
Sault Ste. Marie coach Sheldon Keefe told reporters following the game he felt his team deserved a better fate in the game.
Guelph coach Scott Walker credited his team's bend-don't-break game in the third period
9:15 p.m. Update
Zac Leslie scores into an empty Greyhounds goal to seal a 5-3 Guelph Storm victory over the Greyhounds...final shots 42-38 Greyhounds
9:12 p.m. Update
Justin Auger's initial shot is stopped by Matt Murray but Pius Suter knocks in the rebound with 1:58 left in regulation...4-3 Guelph
9:09 p.m. Update
Justin Nichols with a nice pad stop on David Miller from the slot with just over three minutes left in regulation
9:06 p.m. Update
4:23 left in regulation time and the game remains tied at three
9:01 p.m. Update
Jean Dupuy scores on a loos puck after Tyler Gaudet's initial shot from the slot is stopped by Justin Nichols...3-3
8:56 p.m. Update
Tough night at the office for Darnell Nurse. After his earlierrun-in with Chadd Bauman, Nurse has a point shot from Zac Leslie hit him in the mid-section. Nurse left the ice in discomfort but did not leave the game
8:54 p.m. Update
Just over eight minutes into the third period and Guelph holds on to a 3-2 lead with the Greyhounds holding an 8-2 shot edge in the period
8:44 p.m. Update
Third period is about to get underway and Darnell Nurse has returned to the Greyhounds bench
8:28 p.m. Update
Two periods in the books at the Essar Centre as Guelph leads Sault Ste. Marie 3-2....shots are 29-25 Guelph
8:20 p.m. Update
Bryan Moore picked up goal number 18 as his shot from the right circle through Guelph defenceman Zac Leslie beats Justin Nichols high stick side up under the cross bar...3-2 Guelph
8:18 p.m. Update
After taking Darnell Nurse heavy into the boards in the Greyhounds zone, Chadd Bauman fights Greyhonds defenceman Tyler Hore. Nurse leaves the game bleeding.
Of note, Stephen Pierog of the Storm left the game earlier in the period after blocking a Tyler Gaudet shot but has returned
8:03 p.m. Update
Brock McGinn beats Matt Murray stick side after taking a feed from Scott Kosmachuk on a two-on-one. Kosmachuk takes a feed at the red line from Jason Dickinson to start the play...3-1 Guelph
7:56 p.m. Update
Posts at either end of the ice as Colton White hits the post stick side on Justin Nichols andStephen Pierog hits the post, also stick side on Matt Murray at the other end of the ice...score remains 2-1 Guelph
7:53 p.m. Update
Second period is underway at the Essar Centre
7:37 p.m. Update
First period is in the bookc with Guelph leading 2-1 and holding a 13-12 edge on the shot clock
7:35 p.m. Update
Final minute of the period as the Greyhounds held at bay on their power play chance
7:33 p.m. Update
Greyhounds to their first power play of the night as Steven Trojanovic is off for hooking at 17:00
7:28 p.m, Update
Justin Auger in traffic in the slot beats Murray high glove side after Stephen Pierog tries to stuff the puck in at the side of the Greyhounds goal...2-1 Guelph
7:27 p.m. Update
Game remains tied at one as the Greyhounds kill off the first penalty of the game to McCann. 7 minutes left in the opening period
7:23 p.m. Update
First penalty of the game goes to Jared McCann of the Greyhounds, who is off for slashing 10:25 into the game
7:14 p.m. Update
Guelph comes right back to tie the game at one as Jason Dickinson scores on a rebound going to the net from the left side after Scot Kosmachuk's shot from the right circle is stoppd by Matt Murray
7:12 p.m. Update
Tyler Gaudet gets the Greyhounds on the board 1:52 in as he cuts to the net and slides a backhand past former Greyhound Justin Nichols
7:09 p.m. Update
Puck drop and we are underway
Pre-Game Update
Lineups are set
Scratches
Sault Ste. Marie: Keigan Goetz, David Eccles, Charley Graaskamp, Michael Bunting (knee injury)
Guelph: Adam Craievich, Tyler Bertuzzi, Garrett McFadden
Lines
Sault Ste. Marie: Bryan Moore-Jared McCann-Andrew Fritsch, Sergey Tolchinsky-Dylan Corson-Blake Speers, Patrick Watling-Tyler Gaudet-Jean Dupuy, Jorgen Karterud-David Miller; Darnell Nurse-Alex Gudbranson, Kyle Jenkins-Tyler Ganly, Tyler Hore-Colton White; Matt Murray
Guelph: Brock McGinn-Jason Dickinson-Zack Mitchell, Kerby Rychel-Robby Fabbri-Scott Kosmachuk, Ryan Horvat-Stephen Pierog-Justin Auger, Chadd Baumann-Pius Suter-Marc Stevens; Zac Leslie-Matt Finn, Ben Harpur-Nick Ebert, Steven Trojanovic-Phil Baltisburger; Justin Nichols
Starters
Sault Ste. Marie: Bryan Moore-Jared McCann-Andrew Fritsch; Kyle Jenkins-Tyler Ganly; Matt Murray
Guelph: Brock McGinn-Jason Dickinson-Scott Kosmachuk; Zac Leslie-Nick Ebert; Justin Nichols
Note: Greyhounds forward Brandon Hughes is no longer with the team. The rookie forward left the team "to return home to tend to a family matter and rediscover his passion for hockey" according to Greyhounds GM Kyle Dubas