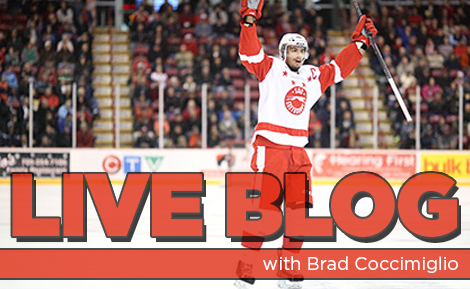 Welcome to SooToday.com's live blog of this afternoon's Ontario Hockey League game between the Windsor Spitfires and Sault Ste. Marie Greyhounds at the WFCU Centre in Windsor.
The game is the third of four games on the road Greyhounds. The game is also the final meeting of the season between the Spitfires and the Greyhounds. The Greyhounds opened the trip on Thursday night in London, losing 4-0, and it continued on Friday night in Sarnia with a 7-0 win.
Continue to refresh your browser throughout the night for the latest updates from the arena.
****
4:27 p.m. Update
Greyhounds cap off a 5-1 win in Windsor. Check back late tonight for a full game story
4:16 p.m. Update
With the Greyhounds enjoying a lengthy 5-on-3 after penalties to Ty Bilcke and Steven Janes, Sergey Tolchinsky's one-timer on a feed from Blake Speers beats Dalen Kuchmey...5-1 Greyhounds
4:07 p.m. Update
Greyhounds forward Tyler Ganly's shot from the right faceoff circle catches Kuchmey off-guard after being deflected by Jean Dupuy to extend the Greyhounds lead...4-1 Greyhounds
4:00 p.m. Update
Jared McCann can't get the initial shot off in tight but stays with the puck and scores on the loose puck...3-1 Greyhounds
3:55 p.m. Update
With Patrick Sanvido in the box for Windsor, Darnell Nurse has his point shot find its way through a crowd in the slot and past Dalen Kuchmey to give the Greyhounds the lead...2-1 Greyhounds
3:50 p.m. Update
Third period is underway
3:34 p.m. Update
Two periods in the books in Widnsor and the game is tied at one. Windsor outshot the Greyhounds 16-6 in the period and now have a 26-18 shot advantage
3:30 p.m. Update
Windsor has a goal with one second left in the 5-on-3 waved off after Steven Janes kicks in the loose puck
3:27 p.m. Update
Just six seconds into a Tyler Ganly penalty, Brandon Halverson hit with a delay of game call for shooting the puck over the glass. Windsor 5-on-3 for 1:54
3:22 p.m. Update
Bryan Moore off for interference for the Greyhounds and Windsor gets their first power play of the second period and their fifth of the night
3:13 p.m. Update
Windsor's Patrick Sanvido off for holding and the Greyhounds get the first power play of the period
3:07 p.m. Update
Josh Ho-Sang cutting to the Greyhounds net, beats Halverson with a backhand stick side, beating the rookie Greyhounds netminder to the short side...1-1
3:02 p.m. Update
Tyler Hore with a shot from the bottom of the right faceoff circle that beats Kuchmey short side to give the Greyhounds the lead...1-0 Greyhounds
2:59 p.m. Update
Halverson continuing his solid play from Friday night with a nice stop on Remy Giftopoulos in close just over two minutes into the period
2:55 p.m. Update
Second period is underway as the Greyhounds look to kill off the rest of a late-period penalty to Darnell Nurse
2:37 p.m. Update
First period is in the books with the game still scoreless. Greyhounds lead on the shot clock by a 12-10 margin
2:35 p.m. Update
Darnell Nurse off again, this time for tripping and Windsor to their third power play of the period
2:27 p.m. Update
Greyhounds kill off the five-on-three and Nurse's entire double minor. Spitfires had their chances but Halverson kept them at bay. BAck to even strength
2:25 p.m. Update
Witht he Spitfires still on the power play, Halverson doesn't see a point shot from Brady Vail through a crowd in front but makes the stop
2:21 p.m. Update
With Keigan Goetz already in the box, Windsor to a 1:18 five-on-three as Darnell Nurse is hit with a double minor for high sticking
2:16 p.m. Update
Just over eight minutes into the game and we're still scoreless at the WFCU Centre in Windsor
2:08 p.m. Update
Game is underway in Windsor. Injured forward Michael Bunting, who has missed extended time due to a knee injury, took the warmup this afternoon. No word yet on his return to game action
Pre-Game Update
Lineups are set
Scratches
Windsor: Trevor Murphy (broken leg), Anthony Kotsovos, Chris Cobham (concussion), Slater Koekkoek (shoulder – done for season)
Sault Ste. Marie: Andrew Fritsch, Patrick Watling, Michael Bunting (knee), Kyle Jenkins
Lines
Windsor: Ben Johnson-Remy Giftopoulos-Ryan Foss, Cristiano DiGiacinto-Josh Ho-Sang-Steven Janes, Brody Milne-Sam Povorozniouk-Nikita Yazkov, Cameron Hughes-Ryan Moore-Ty Bilcke; Eric Diodati-Patrick Sanvido, Brady Vail-Graeme Brown; Adam Bateman; Dalen Kuchmey
Sault Ste. Marie: Bryan Moore-Jared McCann-Sergey Tolchinsky, Dylan Corson-Tyler Gaudet-Trent Mallette, Jean Dupuy-David Miller-Blake Speers, Jorgen Karterud-Charley Graaskamp-Keigan Goetz; Darnell Nurse-Alex Gudbranson, Colton White-Tyler Ganly, Tyler Hore-David Eccles; Brandon Halverson
Starters
Windsor:Cristiano DiGiacinto-Ryan Moore-Brody Milne; Brady Vail-Graeme Brown; Dalen Kuchmey
Sault Ste. Marie:Jean Dupuy-David Miller, Blake Speers; Colton White-Tyler Ganly; Brandon Halverson