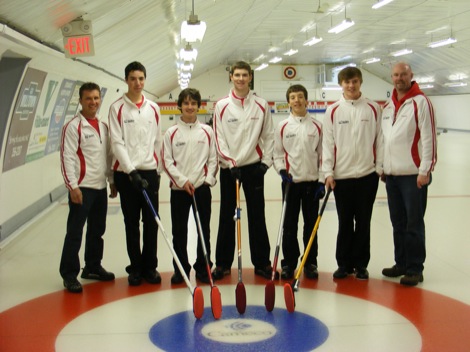 NEWS RELEASE

SOO CURLERS
ASSOCIATION

***************************
Soo curlers hoping to fly more championship banners

Young curlers from Sault Ste. Marie are hoping to bring home Northern Ontario curling championships during competitions in Sioux Lookout and Longlac February 7 through February 10.

Team Rutledge from Soo Curlers has a lot of experience going into the Northern Ontario Girl's Bantam championship in Sioux Lookout, having won the championship under skip Leah Hodgson last year.

With the departure of Hodgson, the team will be heading into championship with Katie Rutledge holding skip broom, Laura Masters as vice, second Shae-lynne Dupuis and newcomer Emma Mclean.

Rutledge and Masters are well-versed in provincial curling competitions.

This will be their third Bantam provincial championship and one Junior championship earlier this month.
Dupuis will be competing in her second Bantam Provincials.

Rutledge, Masters and Dupuis also went to the Ontario Winter Games last year as a Northern Ontario representative.

The girl's team is coached by Kevin Rutledge who said the team has been working very hard but knows the northern Ontario competition will be tough in Sioux Lookout.

Meanwhile, the Bantam boys Northern Ontario Provincial championship in Longlac will include two teams from the Soo Curlers Association.

Skip Nick Servant with vice Mitchell Lemieux, second Brendan Acorn, lead Spencer Clark and 5th Mitchell Harris came in second in the Provincial championship last year.

The team was also a Northern Ontario representative at the Ontario Winter Games in Collingwood last year.

The Servant team (pictured), which qualified for the Provincials by going undefeated last weekend at the regional qualifier in Blind River, is coached by Steve Acorn and Dan Lemieux.

Coach Acorn said Team Servant has been practicing at least once a week and is dedicated and committed to winning the Provincial championship.

Also qualifying for the Provincials is another local bantam boys' team led by skip Ben Manary, vice Jacob Glibota, second Mike Masters and lead Nathan Erkkila.

The Manary team is heading to the Provincials after wins at the qualifier in Blind River as well.

The coach of the Manary team is Jeff Masters.

***************************