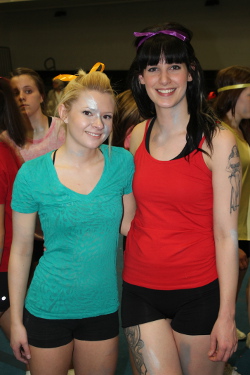 The Sault College Cougars Competitive Cheerleading Team wowed an audience of approximately 300 people with their blend of dance and gymnastics at Sault College's Health and Wellness Building Friday evening.
Pictured are Erin Spurr and Katlyn Halcrow, two members of the Cougars Cheerleading Team.
The Cougars were joined by the Sault Ste. Marie YMCA's Soo Allstars cheerleading team, Filipino dancers and other performers in an evening of entertainment to mark Sault College's second annual Cheer for WUSC fundraiser.
WUSC (World University Service of Canada) is a non-profit Canadian organization dedicated to giving disadvantaged people around the world a chance for postsecondary education, employment and a better quality of life.
Postsecondary institutions such as Sault College partner with WUSC to help a Student Refugee each academic year.
Sault College first got involved with the WUSC Student Refugee Program in early 2012.
Hsar Wah Kae of Burma is this year's Sault College WUSC student, enrolled in the Peace and Conflict Studies program and living in the College's Residence.
Admission to Friday's Cheer for WUSC fundraiser was by donation.
Though his tuition and residence expenses have been waived for the 2013-2014 academic year, and though he has a host family, funds raised through Friday's Cheer for WUSC will help Hsar with daily living expenses, and also go toward helping next year's WUSC Student Refugee.
Sault College's Caitlyn Nelson is a student currently enrolled in the postsecondary institution's Public Relations and Event Management (PEM) program, President of the Sault College WUSC committee, and the Cougars Cheerleading Coach.
Nelson, who played a huge role in organizing this year's Cheer for WUSC, told SooToday.com Friday: "Last year we raised almost $1,000 which was amazing for the amount of people that came (about 200), and this year people have been really responsive and generous."
In the Health and Wellness Building's lobby, paintings and photography by Sault College students were displayed for sale.
15 percent of the proceeds raised from sales of the paintings and photographs went to WUSC.
As another entertaining feature, three Sault College students, coated in silver paint and posing as live statues, intrigued those in attendance (especially children).