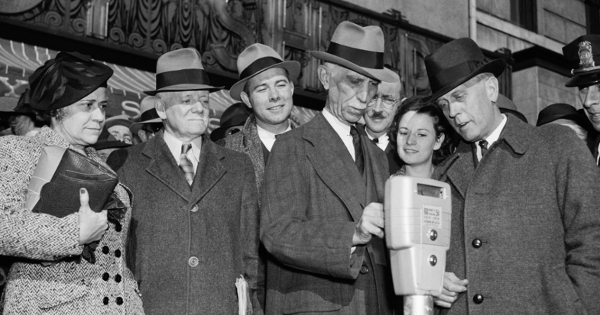 Hear about the city councillor who complained about not getting a parking ticket downtown?
It's true - every word of it.
At this week's meeting of Sault Ste. Marie City Council, Ward 3 Councillor Matthew Shoemaker was telling how he recently parked in a municipally owned lot that offers two hours of free parking.
"I was parked there for substantially longer than two hours," Shoemaker said.
"By accident," he quickly added. "You know. I didn't expect to be that long."
When the overdue councillor finally returned to pick up his vehicle, he found there was no parking ticket.
"I was hoping there would be, because that helps cover the cost of the parking spaces," he carped.
And so Councillor Shoe got to thinking about parking.
He quickly ascertained that the city doesn't make money from its parking lots and meters.
In fact, it loses money.
$229,000 last year.
Something like $2 million over the past decade.
So on Monday night, Shoemaker persuaded his fellow councillors to authorize a spending review of city parking operations.
"This is the lowest of low-hanging fruit. It's never made money for the city," he said.
Options for stopping the fiscal bleeding might include turning the lots over to the private sector, or increasing the cost of streetside and lot parking.
"Good luck to you. I hope we can crack this nut," said Ward 2 Coucnillor Susan Myers, who admitted to trying herself to crack the nut "a couple of times over nine years."
"We should have the machines in the parking lots that we have on Queen Street now," Myers said. "So people can buy the time they want and there's a revenue stream attached to it."
Ward 1 Councillor Paul Christian also applauded the spending review, but pointed out that some municipalities welcome downtown visitors with ambassadors instead of parking meter attendants.
"The good news is we're going to have newer buildings because we're putting money into it. The bad news is when you go downtown, you're going to get fined," Christian said.
Last night, city councillors in London, Ontario voted to end an eight-year-old practice of offering free downtown parking in December.
Downtown merchants there are hoping the added revenue from parking meters will help them pay for a consultant who will show them how to attract new business, the London Free Press reported.
Meanwhile, Sault Ste. Marie City Council approved $213,000 in grants to downtown businesses that plan to invest in their buildings.
Pita Pit at 659 Queen Street East will get $27,500 toward a $94,900 facade modernization and to convert second-floor office space into an apartment.
The Real Estate Stop at 2 Queen Street West will receive $23,942 toward a $74,348 renovation including facade revitalization, a new HVAC system and interior wall panels, as well as more signage.
Other grants approved this week by City Council:
$13,148 for new HVAC units, siding and kitchen renovations at The Summit Church at 302 Queen Street East.
$14,822 for enhancements to second-floor apartments over Blossoms Fresh Fruit Arrangements and Phat Closet at 801 Queen Street East.
$4,650 for a new furnace and air conditioner at Laser Advantage, 495 Queen Street East.
$15,000 for extensive renovations including an accessibilty ramp, new concrete walkway, storefront window and front door a Lou's Automotive, 317 Albert Street East.
$7,612 for retrofitting basement office space and other repairs at Century 21, 121 Brock Street.
$13,665 for a high-efficiency boiler, indirect hot water tank and other improvements at Arturo's Ristorante, 515 Queen Street East.
$4,895 for roof and back steps repair at Headlines Hair and Spa, 140 East Street.
$15,000 for a new roof at Quality Inn, 180 Bay Street.
$3,202 for structural repairs at Libero Paci Law, 479 Albert Street East.
$15,000 to help convert the second floor to a residential unit over The Gallery at 754 Queen Street East.
$10,160 for window, roof and deck repairs at Eric Brauner Real Estate, 189 East Street.
$10,000 for facade and deck improvements at AECOM, 523 Wellington Street East.
$8,783 for roof and exterior renovations at Thomas Walls School of Music, 505 Albert Street East.
$6,894 for new signage, doors and a storefront window at Homespun Treasures, 762 Queen Street East.
$2,500 for professional design work on a new facade and upstairs apartment over Case's Music, 636 Queen Street East.
$10,679 for office space renovation, window replacement and an accessible entrance at Quattra SCS, 272 Albert Street East.