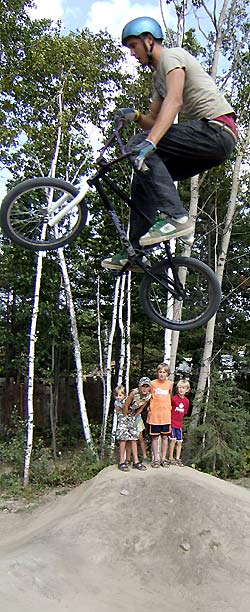 NEWS RELEASE
SAULT CHEER ACADEMY

*************************
There is nothing like being a kid during the summer months in Sault Ste. Marie.
Our city is full of great opportunities for kids to grow with unforgettable adventures and activities.
Today we live in the video game and cellphone generation.
Encourage your kids to get active and to create some summer memories, all they need is a little push in the right direction.
While designing their 2014 summer camps, Sault Cheer Academy would like to offer some easy ways to keep your kids entertained and active throughout the summer.

Set your child up for a life long habit of physical activity. Sports are not for every child, but it could be that they have not found an activity that they love yet.
Parents can look for activities and sports outside of the more traditional ones like soccer and baseball.
Keep trying different activities until something clicks.
Perhaps dancing, swimming, cheerleading, or even art classes might suit your child.
Encourage your kids to try new things and to step outside of their comfort zones so they can find what makes them happy.

Many times the challenge for kids is finding something that is available to them.
As parents it is easy to become tied down with work and household tasks, however making the time to give your child a little nudge in the right direction is sometimes all they need.
A backyard or a bedroom is a perfect spot to build a fort.
This will get their imagination working and their bodies moving while they find ways to build their fort bigger and better.
Once the fort is made, games and other activities will present themselves.

Ask your kids what they want to do this summer.
Summers have a habit of slipping away before you have accomplished all you wanted to.
It's not too late to make a calendar of day activities you can do with your children or things you can set up for your children while you are at work.
This could be something as simple as a day at the beach, a picnic in the park, crafts or a day cooking treats in the kitchen.

Video games and television have a huge role to play in childhood obesity and can limit a child's imagination.
By putting a limit on TV, computer and video game use, parents can encourage active alternatives that will help kids keep moving.
By removing TVs and computers from bedrooms you can limit temptation.

Whether kids let you know it or not, they love spending time with their parents.
Encourage children's fitness by taking a family hike or playing a game of catch, walk or bike to school together, play hopscotch, etc.
You don't need a lot of fancy equipment or special classes to encourage your child to exercise.

Sault Cheer Academy at Sault College is looking forward to making memories in the sun this summer and we hope you and your kids have fun creating your own.
From all of us here at SCA, have a Happy Summer.
*************************