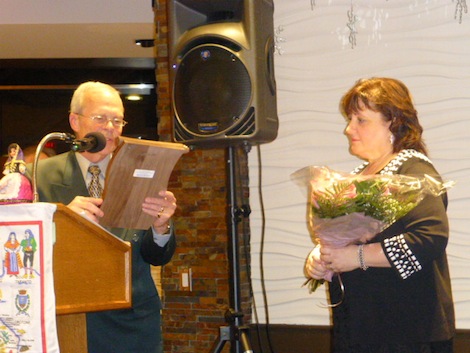 NEWS RELEASE
CLUB CALABRESE
***************************
Dr. Silvana Spadafora recognized for devotion and dedication to patients by Club Calabrese
Club Calabrese of Sault Ste. Marie held its 25th Annual Chestnut Festa yesterday and also celebrated 30 years of service to our community.
Club Calabrese is a non-profit, charitable and social organization that promotes the Italian language and culture as well as offering assistance to persons in need.
As part of the evening's events, Dr. Silvana Spadafora was recognized for her many years of hard work and dedication in providing exceptional and compassionate medical care to the people of Sault Ste. Marie and district.
Her caring, kindness, and unselfish patience and genuine concern for those in need are only surpassed by her exceptional skills, expertise and professionalism.
Dr. Spadafora's guidance and reassurance continues to bring great comfort to many.
Dr. Spadafora is medical director of the SAH-based Algoma District Cancer Program.
She is a native of Sault Ste. Marie and has practised in the Sault for 19 years.
She was also instrumental in having two new oncologists join the Cancer Program and thanked the people of Sault Ste. Marie for supporting the building of the new hospital.
Dr. Spadafora said she believes that was one of the reasons for Dr. Mohammed Rassouli and Dr. Ionnis Voutsadakis deciding to join her in her work as the new hospital has state of the art equipment.
Dr. Spadafora's parents are originally from southern Italy, Calabria, which is the root of Club Calabrese.
***************************
Photos provided by Club Calabrese