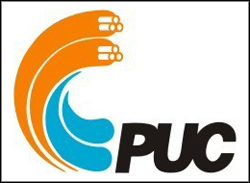 The Sault Ste. Marie PUC Board of Directors will meet Monday afternoon at the utility's Second Line headquarters to discuss and approve a solution to long-standing problems the Sault has faced with the taste, odour and colour of tap water.
That solution, PUC President and CEO Dominic Parrella told SooToday.com Friday, will in turn be presented to Sault Ste. Marie City Council at its regular meeting Monday evening for discussion.
Sault residents (especially those in the community's east end) have suffered through an increased number of unpleasant and frustrating incidents in which discoloured water from built-up sediment in aging water mains has filled their taps, laundry machines, toilets and bathtubs.
Brown tap water is, of course, undrinkable, though the PUC has instructed customers to run their taps until the water appears to be normal and clear.
Continued flushing of toilets will likewise return the water to its normal appearance.
Parrella, in a December 2, 2013 address to City Council, acknowledged the brown water incidents in particular had increased, and, recognizing growing anger among PUC customers, pledged that the utility would present a solution to the problem to Council in January.
In December, Parrella told the PUC Board and the media there were no less than 150 possible solutions to the vile water problem.
A Committee consisting of PUC staff, City Councillors, Algoma Public Health (APH) officials and members of the public were tasked with narrowing that number of solutions down to one.
Parrella did not reveal details of that solution Friday.
Parrella told SooToday.com at a PUC Board meeting December 11, 2013 that the solution to the brown water problem will take at least two years to completely rectify the situation, or possibly three or four, depending on what solution is decided on.
The brown water incidents, while not completely unheard of, have dramatically increased since the PUC's switchover to free chlorine in the PUC's system in October 2011.
The PUC has said unidirectional flushing of water mains by the PUC to rid the water mains of sediment, improper and unauthorized use of fire hydrants and construction may all lead to brown water incidents.