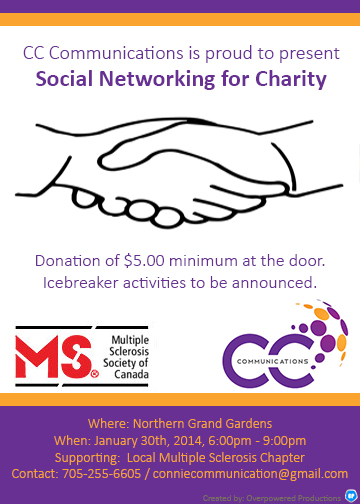 NEWS RELEASE
CC COMMUNICATIONS
*************************
Last February, CC Communications was the recipient of the NOHFC's Young Entrepreneur Grant.
In order to give back to the community, CC Communications is proud to present "Social Networking for Charity."
The event will be a kickoff to a series of social networking events CC Communications hopes to host in the future.
The event will be hosted at the new Northern Grand Gardens, the former Riuniti, on January 30th 2014.
The charity in which this social networking session will support is the local Multiple Sclerosis Chapter.
Chair of the local MS Chapter, Sherri Duke is excited for the event and will be in attendance.
A five dollar minimum donation will be accepted at the door and those interested may RSVP by emailing conniecommunication@gmail.com
The event will be an opportunity for business owners to network with one another and form lasting relationships through icebreaker activities.
One particular icebreaker will be an enlightening version of "speed-­‐ dating" where attendees can discuss their business, products and or services within a ten minute timed conversation.
For more information on how to become involved with the event or to provide a donation, please phone Connie at (705) 255-­‐6605 or visit CC Communications and Photography on Facebook
About CC Communications
CC Communications is a marketing and communications business that specializes in the set-­‐up and management of social media services, copywriting, and content writing.
*************************