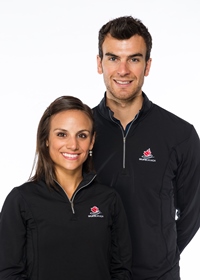 Canadian Olympic figure skater Meagan Duhamel, who was born and raised in Lively, Ontario just outside Sudbury, can smile today as competition began in Sochi, Russia.

She and partner Eric Radford (pictured) placed second today in the Team Pairs Short Program behind Russia's Tatiana Volosozhar and Maxim Trankov, and ahead of China's Cheng Peng and Hao Zhang.

This second place finish earns nine points for Canada's figure skating team and advances the team into the next round.

The music used in their Pairs Short Program routine was composed by Radford as a tribute to his late coach, Paul Wirtz.

Together, Duhamel and Radford earned gold at the Canadian Figure Skating Championships three years in a row (2012-2014) and silver in 2011.

In 2013, the duo took home bronze from the World Championships held in London, Ontario.

Duhamel and Radford is the only team in the world to include the side-by-side triple Lutz during competition, a manoeuvre they successfully executed today.

Canada's Patrick Chan also skated today, placing third in the Men's Short Program.

Team figure skating events continue Saturday beginning with the Ice Dance Short Program at 9:30 a.m. EST.

Medals will be awarded following the Team Ice Dance Free Program on Sunday afternoon.

Other 2014 Olympic competitors from the Greater Sudbury area include Rebecca Johnson, a forward on the Canadian Women's Hockey Team, and cross country skier Devon Kershaw.

Women's Hockey begins Saturday, February 8 when Team USA meets Finland at 3 p.m. EST and Canada faces Switzerland at 8 p.m. EST.

Kershaw is expected to ski the Men's Sprint event on Tuesday, February 11 at 5 a.m. EST.

As for Sault Ste. Marie's Olympians, Team Jacobs will begin competition on Monday February 10 when they curl against Germany's Schulze rink at midnight.

CBC will broadcast this and all other Team Canada draws throughout the 2014 Winter Olympic Games.

For a complete broadcast schedule, please click here.

The official 2014 Olympic Opening Ceremonies take place Friday, February 7 at 11 a.m.