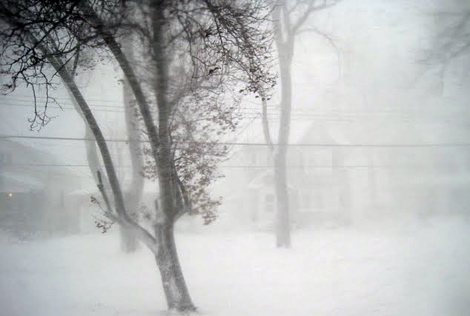 SPECIAL WEATHER STATEMENT

ENVIRONMENT CANADA

****************************
Snow squall warning for Sault Ste. Marie - St. Joseph Island - Searchmont - Montreal River Harbour - Batchawana Bay - Gogama - Foleyet - Chapleau - Missinaibi Lake - Elliot Lake - Ranger Lake - Manitoulin Island - Espanola - Killarney

Brief snow squalls with very low visibility into this evening.

A snow squall has developed along a sharp Arctic cold front crossing Northeastern Ontario.

Heavy snow and blowing snow from strong and gusty winds in the snow squall will suddenly reduce visibilities to near zero at times.

General snow fall amounts associated with the snow squall are forecast to be in the 2 to 4 cm range.

The snow squalls may be a bit longer lived and more intense in the regions near Lake Superior extending from Montreal River to Sault Ste. Marie with up to 10 cm of snow possible.

Motorists should be prepared for sudden very low to nil visibility in bursts of heavy snow and blowing snow as the snow squall moves through, resulting in hazardous winter driving conditions.

Temperatures in the wake of the cold front will plunge quite dramatically from a few degrees below the zero degree mark to minus 20 or below in many areas by tonight.

Environment Canada is closely monitoring this situation.
Please monitor the latest forecasts and warnings from Environment Canada at www.weatheroffice.gc.ca

****************************