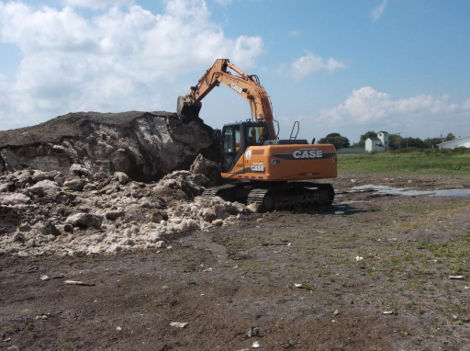 Unless you were fortunate enough to spend last winter in warmer, southern locations, none of us will forget the incredible amount of snow we experienced throughout the winter of 2013-2014.
In fact, some of the remains from last winter's heavy snowfall are still with us.
Larry Girardi, city commissioner of public works and transportation, told us a city excavator was out as recently as Friday breaking down snow at the Downey's snow dump on Bruce Street (pictured).
Girardi told us as far as he knows having remains of snow linger into August is unprecedented.
Girardi said he has spoken with some of the veterans from his department, who say the remains of the heavy snowfall of the winter of 1996 were gone from snow dumps by July of that year.
The pile on Bruce Street is approximately 14 feet high, Girardi said.
Girardi said he has looked at the long-range forecast, which calls for heavy rain preceding more heavy snowfall for this year.
The city's current annual snow management allowance, which runs from January to December, is already over budget with November and December on its way.
Girardi says his department will be ready to deal with severe weather and its effects as best as possible.