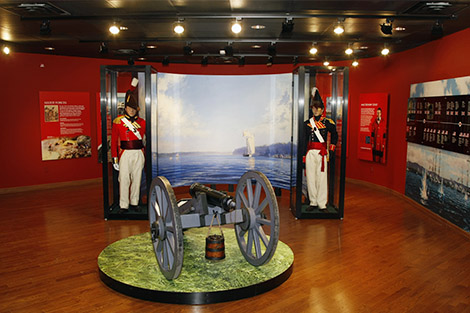 SooToday.com was given a sneak peek at the newly-built $4-million Heritage Discovery Centre, part of the Ermatinger-Clergue National Historic Centre (commonly called the Old Stone House) in Sault Ste. Marie's downtown.

Kathryn McAuley Yukich, chair of the historic sites board, said there are exhibits for everyone, young and old.

"There are stories here that a lot of people, as much as they have been brought up in the Sault, may not be aware of our rich history and this facility relates these stories in such an exciting way," she said.

The Heritage Discovery Centre and the exhibits within are fully wheelchair-accessible, and areas of the Old Stone House are now partially accessible.

"With the visitor's centre, anybody can access the visuals and the film in the theatre, and the story of Sault Ste. Marie, of the house and blockhouse," said McAuley Yukich.

The centre boasts a 50-person theatre, which is large enough to accommodate school groups and the seating is retractable to allow for the space to be used for events and meetings.

A 20-minute long movie that plays in the theatre recounts the story of the Old Stone House and adjacent Blockhouse, as well as the history of Sault Ste. Marie.

A new gift shop in the visitor centre contains work from local artisans, as well as Hudson's Bay products such as their iconic point blankets.

The exterior of the new building is distinctly modern, but was created to compliment the Old Stone House with large stone used in the building materials.

"We wanted to have that tie in, we didn't want to replicate what we have on the site. Our theme is 'stories steeped in stone'," said McAuley Yukich

The public Grand Opening will be held this Thursday, July 17 at 11 a.m., with special events held all weekend during Rotaryfest.

The summer kitchen in the Old Stone House was also renovated as part of the project, expanding the room and adding an accessible bathroom.

"It's still a small space, but larger than it was and can host small luncheons and dinners," said McAuley Yukich.

The site will host additional special events throughout the year, including the Rendezvous held September 18-21 and Moonlight Magic in November.