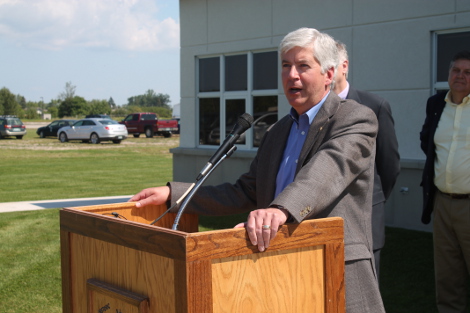 Michigan Governor Rick Snyder was in attendance for the official ribbon cutting ceremony at the Sault Ste. Marie SmartZone Business Accelerator Building in Sault Ste. Marie, Michigan Friday.
Snyder (pictured) cut the ribbon with Sault Ste. Marie, Michigan Economic Development Corporation Executive Director Kristen Claus, Lake Superior State University (LSSU) President Dr. Tony McLain and Sault Ste. Marie, Michigan Mayor Tony Bosbous.
"For me, this is very special," Snyder said, as he was one of the earliest advocates of creating SmartZones in Michigan.
The new SmartZone building, located on Meridian Street, is a facility designed to combine the efforts of LSSU, industry, research organizations, government and other community organizations such as the Sault Ste. Marie, Michigan Economic Development Corporation, with a view to creating businesses and jobs in the technology sector by helping individuals and groups with innovative technology-based ideas get their visions from the drawing board to the marketplace.
There are now 15 SmartZones in Michigan.
Addressing a large audience assembled outside the SmartZone, Snyder said: "To be an entrepreneur is really hard. There's nothing harder than starting a business, so you need that support and this is what this facility can do."
Speaking to reporters, Snyder said: "Now we have one stop shopping as a focal point for start up companies (in Sault Ste. Marie, Michigan and surrounding areas)."
Snyder said earlier this week he visited a SmartZone in Houghton, Michigan, where several companies have graduated from that technology-based facility and created approximately 300 jobs in that area over the past 10 years.
Speaking to SooToday.com, Snyder said: "small and medium sized businesses are where you get your job growth."
Snyder said the SmartZone could work in collaboration with Sault Ste. Marie, Ontario's Innovation Centre (an information technology sector job incubator) and the Sault Ste. Marie Economic Development Corporation.
"I'm very pro-Canadian. I believe we should be doing as many things as we can."
"I've got a big bridge project south of here I'm working on (the New International Trade Crossing, designed to provide a new and speedier link between Detroit and Windsor), but we've got the International Bridge here."
"We should have as many people going back and forth and doing as much business as possible…it's a great partnership, let's do even more," Snyder said, adding he hopes to visit Ontario soon to build on trade relationships.
Conducting a tour of the facility, LSSU Economic Development Assistant Cameron Penny described the SmartZone as an environment filled with devices such as laser cutters, 3D printers and robotic assembly machines, in which "we can train people without a lot of capital or a Ph.D on the equipment and get a couple of hundred of their prototypes out there, instead of them having a great idea and being left out in the cold."
"We train them to get them out into the real world," Penny said, adding the SmartZone also offers business plan advice.
"You don't have to be a university student, you just have to have a technology-based idea," Penny added.
There is a fee for using the facility's services, but Penny told us the cost is personalized depending on what stage a project is at.
The SmartZone has space for up to seven clients with business ideas.
"Contracts last for up to six months to get clients moving forward before going out into a bigger space and into the marketplace," Penny said.
Penny displayed a 3D printer, which can rapidly build a plastic scale model prototype of any device designed on a computer, from a toy to a jet.
The SmartZone currently has a security firm on site developing a cyber security project and a nursing simulation lab for LSSU School of Nursing students and War Memorial Hospital.
LSSU School of Nursing Assistant Professor Kathy Berchem and LSSU Nursing student Emily Schaub were on hand at the nursing simulation lab Friday.
Explaining the benefits of the simulation lab, Berchem told SooToday.com: "We go through scenarios, from normal to critical, to build a student's confidence in working with patients before going to work in a hospital."
"The simulation lab at Lake State has low fidelity simulators, but here the mannequins can be programmed to help students with different scenarios, such as how to help patients who are having seizures."
Berchem added: "The mannequins here at the SmartZone can do everything a human can do except stand up and walk on their own."
One mannequin on display cost $100,000, with funding for that purchase coming from various donors, Berchem told us.
Community leaders first envisioned Sault Ste. Marie, Michigan's SmartZone in 2006.
A federal grant of $1.325 million eventually came through, with the rest of the $3.2 million cost coming from various other sources, including the Michigan Economic Development Corporation.
A groundbreaking ceremony was held in April 2012, with construction on the SmartZone building beginning last June.
While Friday marked the official ribbon cutting ceremony, the SmartZone has been up and running since March.