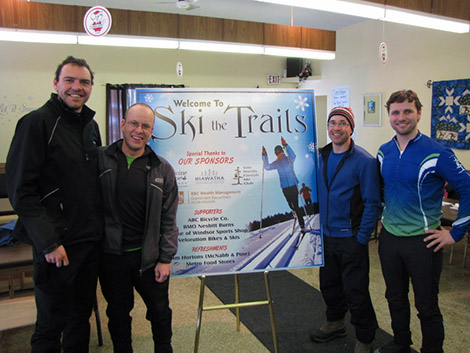 NEWS RELEASE
SAULT AREA HOSPITAL FOUNDATION
*************************
SAULT STE. MARIE - The Sault Area Hospital Foundation (SAHF) is preparing to deliver a fun filled day of cross country skiing with Ski the Trails - 2014.
On Sunday, February 9th, avid and recreational skiers will hit the trails at Hiawatha Highlands in support of healthcare in their community.
Registration is $50 for an individual (fee waived if $100 in pledges are collected) or $100 for a team of two or three (fee waived if $250 in pledges are collected).
This non-competitive 34km cross country ski marathon, across the three trails, has been a major success in the past.
Last year 42 participants completed the marathon with the event raising $13,936.
Co-Chairs Dr. Phil Dopp and Dr. James Curran established this event to support SAHF while staying active and enjoying the great outdoor scenery of Hiawatha Highlands.
The Sault Area Hospital Foundation is the primary source of funding for the purchase of equipment for the Sault Area Hospital.
"The pledges and gifts received during Ski the Trails are used to purchase medical equipment for Sault Area Hospital. The equipment purchased by SAHF is crucial to maintaining the high quality healthcare that our communities, Sault Ste. Marie and throughout the Algoma District, deserve," explains Cheryl Pavoni, Executive Director, Sault Area Hospital Foundation.
With Scotiabank as the presenting sponsor, this year's event is expected to set new highs in both participation and fundraising.
A large group of Scotiabank employees will be donating their time to help out and ensure the event runs smoothly. Also, for every pledge that is raised, Scotiabank is going to make a matching donation, up to $5,000, to SAHF.
If you are interested in participating or pledging a skier, you can pick up registration and pledge form at either of the Scotiabank locations in Sault Ste. Marie or visit the SAHF website, www.sahfoundation.com, to find all the information and downloadable registration and pledge forms.
*************************
For video on this story, please click
here