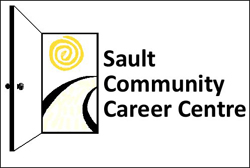 NEWS RELEASE
SAULT COMMUNITY CAREER CENTRE
*************************
The Sault Community Career Centre, in conjunction with Sinosteel Equipment & Engineering Co. Ltd. and Essar Steel Algoma, will be hosting a job fair Thursday, May 29.
The job fair will be on-site at the Sault Community Career Centre, 503 Queen Street East, Sault Ste. Marie, ON.
Sinosteel is undertaking the repair of a coke oven battery at Essar Steel Algoma and is seeking experienced individuals for fixed term employment.
Positions to be filled at the job fair include; Iron unit technician, brick setter/expediter, health & safety officer, red seal electrician, heater, crane operator and welder-fitter.
Check out our website at www.saultcareercentre.ca for essential minimum requirements.
Drop in anytime from 10 a.m. to 6 p.m. with your resume.
Not your field? Come see our job board and chat with us – we can help.

Please contact the Sault Community Career Centre for more information.
The Sault Community Career Centre is a not for profit, customer focused, innovative and resourceful agency committed to leading Sault Ste. Marie in creating a welcoming community, supporting employers, helping job seekers reach goals and assisting newcomers with settlement services. 705-759-0909
*************************