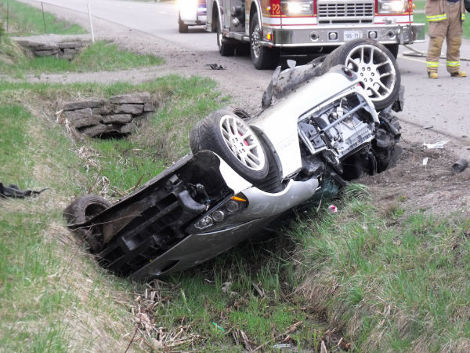 8:15 a.m. update
CITY POLICE
NEWS RELEASE
*************************
At approximately 7 p.m., police responded to a single motor vehicle collision on Goulais Ave.
It is reported that a southbound vehicle lost control and hit the ditch resulting in both occupants being ejected from the vehicle.
The vehicle also struck a hydro pole.
Two people were transported to the hospital by ambulance.
The investigation is ongoing at this time.
*************************
Original story: 11:45 p.m.
Loyal SooToday.com reader Gates Landry sent us the following note and photos about a single vehicle collision several readers report happening early Friday evening on Goulais Avenue.
*************************
A single car accident closed Goulais Avenue shortly after 7 p.m. tonight when a Dodge Viper (2003 SRT-10 convertable, reports another reader) lost control after reportedly avoiding a deer.
Traveling at a high rate of speed, the car lost control , hitting the ditch on one side of the road and striking a telephone pole where the two occupants were ejected before the car came to rest upside down in the ditch on the opposite side of the road.
Both occupants were taken to Sault area hospital.
*************************