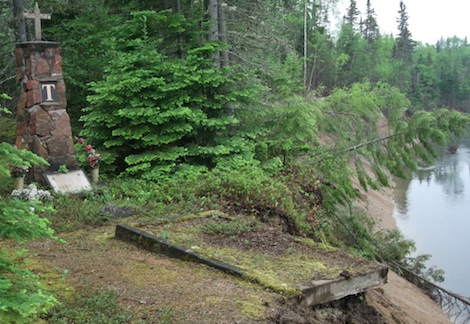 "I am writing about a sad story regarding the gravesite of Alphonse Turcotte near Wawa," loyal reader Roy Thompson advises SooToday.com by e-mail.
"The attached photo shows how heavy erosion near the river bank has almost washed his grave into the Michipicoten River. The grave used to be 15 to 20 metres away from the river bank. The site is outside of Wawa's limits and a few kilometres north of Lake Superior provincial park."
Mr. Turcotte and his wife Agnes are well-known figures in Wawa's history, Roy says.
An interesting article in The Algoma News Review tells the story of the Turcottes in North Algoma.
According to the piece, Al came to Wawa in 1939 expecting a short stay while he helped to build the Helen Mine crushing plant.
He fell in love with the area and soon sent for his wife and two sons.

The Turcottes operated Turcotte's Dry Goods and Clothing Store on Broadway Avenue for some time.
The couple actively promoted the town and supported the creation of important community services.
Al played a significant role in ensuring the Trans-Canada Highway went through Wawa.
He and other businessmen helped to create the First Wawa Goose - unveiled on September 17, 1960 - on the Lake Superior Route.

In 1969 the Turcottes proudly opened a popular local tourist attraction.
Fort Friendship, an imitation structure, was built on the banks of the Michipicoten River.

In 1974 Al Turcotte died suddenly from a heart attack and was buried next to his fort.

"I no longer live in Wawa, but became aware of the state of his grave through a friend's post on Facebook," Roy reports in his e-mail.
"Ken Martin from Wawa (705-856-7085) is apparently working on getting government involvement in this matter, but the process is very slow. It is extremely sad to see the grave of an important resident of Wawa being washed away. It won't be long and the grave will be gone. I hope that this story is worthy of public attention, which may help the bureaucracy move faster."