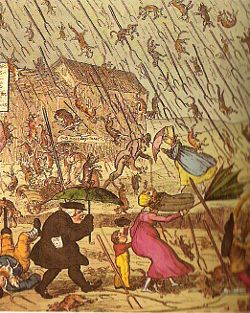 WEATHER ALERT
ENVIRONMENT CANADA
*************************
6 p.m. update
Severe thunderstorm warning in effect for: Agawa - Lake Superior Park
Updated or ended by 6:42 p.m. EDT.

A line of thunderstorms producing heavy rain is located over Lake Superior Provincial Park. Rainfall amounts of 50 mm per hour are possible.
Take cover immediately, if threatening weather approaches.
Fast moving water across a road can sweep a vehicle away.
Rapidly rising rivers and creeks can sweep away bridges, culverts, buildings, and people.

Environment Canada meteorologists will update alerts as required, so stay tuned to your local media or Weatheradio.
*************************
Original release: 1:14 p.m.
Special weather statement in effect for: Agawa - Lake Superior Park - Sault Ste. Marie - St. Joseph Island - Searchmont - Montreal River Harbour - Batchawana Bay
Significant rain continues today through Tuesday morning for areas north and east of Lake Superior.
Rain developing over Northwestern Ontario Monday morning.
Showers continues this afternoon from Lake Superior northeastwards towards Kapuskasing as a front remains nearly stationary over the area.
These showers are expected to ease somewhat overnight however a developing low pressure system currently over South Dakota will spread rain over much of Northern Ontario early Monday morning.
Total rainfall amounts of 25 to 40 mm are expected by Tuesday morning.
Locally higher amounts may be possible due to thunderstorms where rainfall amounts may exceed 50 mm over the two day period.
Rain will taper off in Northwestern Ontario Tuesday morning and late Tuesday for Northeastern Ontario.

Rainfall warnings are issued when total rainfall amounts of 50 mm in 24 hours are expected.
Environment Canada meteorologists will continue to monitor the situation and will issue any warnings or statements as required.
*************************