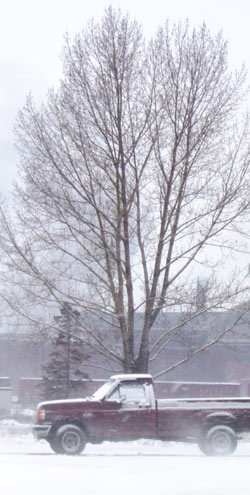 SPECIAL WEATHER STATEMENT
ENVIRONMENT CANADA
*************************
SPECIAL WEATHER STATEMENT FOR WAWA - WHITE RIVER - PUKASKWA SAULT STE. MARIE - SUPERIOR EAST.

LAKE EFFECT FLURRIES TONIGHT INTO TUESDAY.

A BRISK WESTERLY FLOW OF CONSIDERABLY COLDER ARCTIC AIR HAS BECOME ESTABLISHED OVER THE REGIONS AND AS A RESULT BANDS OF FLURRIES COMING ASHORE OFF OF LAKE SUPERIOR HAVE DEVELOPED AS EXPECTED.

FLURRIES WILL BE HEAVY AT TIMES AND WILL CAUSE REDUCED VISIBILITIES.
THE BANDS WILL SHIFT AROUND AND SPREAD SNOW AMOUNTS OVER A WIDE AREA.
LOCAL SNOW AMOUNTS OF 5 TO 10 CM ARE LIKELY TONIGHT INTO TUESDAY.
TOTAL SNOWFALL AMOUNTS OF NEAR 15 CM ARE POSSIBLE FROM BATCHAWANA BAY TO LAKE SUPERIOR PROVINCIAL PARK BY TUESDAY EVENING.
THESE HIGHER SNOW AMOUNTS ARE EXPECTED OVER AN 18 TO 24-HOUR PERIOD, WITH THE FLURRIES BECOMING ISOLATED BY TUESDAY EVENING.

MOTORISTS ARE ADVISED TO USE CAUTION AS VISIBILITIES MAY BE SUDDENLY REDUCED TO A FEW HUNDRED METRES IN HEAVY FLURRIES.
UNTREATED ROADS MAY BECOME SLIPPERY AND LOCALLY SNOW COVERED AT TIMES DURING HEAVY FLURRIES, RESULTING IN DIFFICULT WINTER DRIVING CONDITIONS.

THE PUBLIC IS ADVISED TO MONITOR FUTURE FORECASTS AND WARNINGS AS WARNINGS MAY BE REQUIRED OR EXTENDED.

*************************