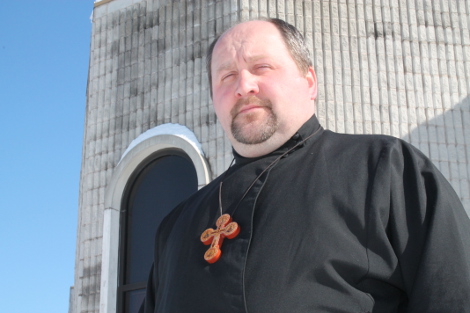 Two well-known local figures of Sault Ste. Marie's Ukrainian community have shared their thoughts with SooToday.com in regards to the ongoing, disturbing (and deadly) social, political and military developments involving Ukraine.
St. Mary's Ukrainian Catholic Church Pastor Jerry Lazoryk (pictured) is an ethnic Ukrainian, born in Poland, who has lived in the Sault since 1997.
Sault Ste. Marie has a sizeable Ukrainian population (several thousand people), with its roots reaching back to early 20th century immigration to this city.
Lazoryk's church has about 90 families, approximately 50 percent of which are Ukrainian.
In Ukraine, protests and demonstrations against then President Viktor Yanukovych began in November 2013 after he disallowed closer ties with the European Union (western Ukrainians are generally pro-Europe and pro-West, whereas eastern Ukrainians tend to be pro-Russian).
Yanukovych brought in anti-protest laws, and defiant, escalated protests resulted in January, climaxing in February when authorities fired on protestors.
The world watched in shock and horror as 98 people were killed and many others injured in the escalated violence.
Since then, Yanukovych has fled the country, his government replaced with one fiercely determined to chart Ukraine's own course.
Enter Russian President Vladimir Putin.
A bit harsh (perhaps) to compare Putin to Cold War Soviet dictator Joseph Stalin just yet, but Putin, a former KGB Colonel, has clearly proven over the years to be a menacing thorn in the side to the West, an autocratic, political strong man determined to establish the post-Soviet Russian Federation as an expansionist superpower.
Putin has encircled Ukraine with Russian troops and the Russians now occupy Crimea.
Putin and other Russian government officials insist the uniformed, heavily-armed Russians in Crimea are not Russian soldiers, but rather, "self-defence" units drawn from the ethnic Russian population of Crimea and not commanded in any way by Russia's military.
That claim has of course been met with universal ridicule from Ukraine and the West.
The West, including Canada, has strongly condemned the actions of the former Ukrainian government and Putin's Russia, responding with diplomatic and economic support for Ukraine.
What are Lazoryk and his church members (who have held special, Catholic prayer services regarding the situation) feeling at this time?
"There is a total feeling of sadness that people can do such bad things to other people in a modern, 21st century country in Europe," Lazoryk said.
There is also anger, Lazoryk said, that the Ukrainian people were lied to and abused by a corrupt government for so long.
Sad and angry indeed, but surprised at the Russian government's actions?
"Absolutely not," Lazoryk said.
Not mincing words, Lazoryk stated: "We look at history, what happened with Hungary, Czechoslovakia and recently in Georgia…Russia has never changed its arrogant way of approaching post-Soviet republics."
Where does Lazoryk see this situation going?
Escalation, or will cooler heads prevail leading to normalcy?
"The U.S., Canada and Europe could influence the rich and powerful of Russia, the billionaires who hold tremendous wealth, to tell them to influence Mr. Putin and tell him his actions are hurting them in their business dealings abroad."
Lazoryk said he hopes Putin's government will consider the commandment "Thou shalt not kill" and change its heart and actions.
Lazoryk, however, said: "Before the situation gets better, it's going to get harder…Ukrainians have lived through many hardships, like under Stalin in the 1930s."
"Ukrainians will win, but it'll get harder first."
SooToday.com also spoke with Mary Borowicz, who is a St. Mary's parishioner and closely involved with the Sault's Ukrainian community.
Borowicz, who was born in France to Ukrainian parents, recently retired from Algoma Central Properties and is a former Huron-Superior Catholic District School Board trustee and a former Sault Ste. Marie City Councillor.
"We are appalled and feel helpless…we were shocked to hear this was happening in this day and age in Europe, and we just can't believe they (Russia) would have no respect for the sovereignty of Ukraine."
"We're very grateful that we have the unanimous support of all our party leaders in Canada, President Obama, and support from other countries…other countries are watching."
Borowicz is pleased that Western countries have offered economic aid packages to Ukraine.
Offering that economic aid, Borowicz said, might prompt Putin to reconsider his actions in the face of Western economic support for Ukraine.
Regarding this disturbing crisis, Borowicz said: "I'm still hopeful, I'll never give up hope…we have the support of many countries, and I'm hoping this is resolved so that we don't end up losing more lives over something that shouldn't have happened to begin with."
Both Borowicz and Lazoryk are in contact with family members in Ukraine.