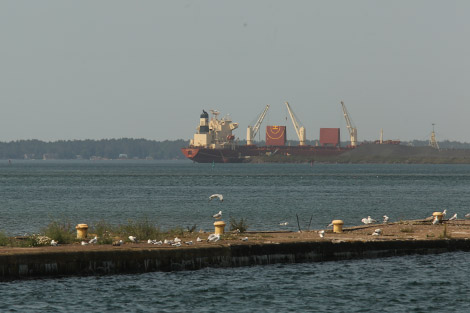 Federal officials are expected to arrive tonight to begin investigating after a ship ran aground last night on the St. Marys River.
No damage and no injuries were reported in the incident, which involved the MV Federal Katsura.
"We'll still need to verfiy (damages and injuries). It's part of why we're going," said Chris Krepski, a TSB spokesperson.
According to Boatnerd.com, the Federal Katsura is a geared bulk carrier measuring 624' 8" long.
It is owned by Tokyo-based Koyo Line.
Krepski said the vessel is believed to have been carrying steel, which is currently being unloaded.
He said the Federal Katsura has been refloated, but will stay put while investigators interview crew, inspect the vessel and download data from the voyage data recorder.
Other witnesses will also be interviewed.
Original release from TSB:
*************************
QUEBEC - The Transportation Safety Board of Canada (TSB) is deploying a team of investigators to Sault Ste Marie, Ontario, where the MV Federal Katsura has grounded off the McLean Export Dock on St. Marys River.
The TSB will gather information and assess the occurrence.
The TSB is an independent agency that investigates marine, pipeline, railway and aviation transportation occurrences.
Its sole aim is the advancement of transportation safety.
It is not the function of the Board to assign fault or determine civil or criminal liability.
*************************
(PHOTO: The MV Federal Katsuna is pictured near Essar Steel Algoma on Wednesday morning. SooToday/Kenneth Armstrong)