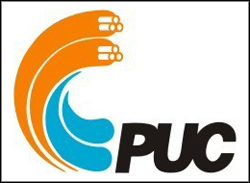 The Sault Ste. Marie PUC Board of Directors, at a meeting with senior staff at the PUC's Second Line office Wednesday afternoon, approved an increase in water charges and accepted, as an information item, an Annual Drinking Water Quality Summary Report.
Those water charges, however, are a three percent rise in "miscellaneous water charges," not residential consumption rates, PUC Treasurer and Vice President of Financial Services Terry Greco told SooToday.com.
These include charges for returned cheques, special meter reads, meter dispute charges (if the meter is correct), and service locating.
Very little mention was made of the ongoing brown water woes during verbal discussion by the Board and staff regarding the Annual Drinking Water Quality Summary Report.
The PUC, in February, unveiled its Water Quality Improvement Plan to rectify that problem.
Some mention was made at Wednesday's meeting of cadmium found in the water supply in the PUC's service area (which was rectified) and precautionary boil water advisories issued in the city's Ward Three area over the past year.
Details of the Annual Drinking Water Quality Summary Report, Greco told us, are expected to be posted on the PUC website by Thursday.
The main topic of Wednesday's discussion was the effect the severe winter weather continues to have on Sault water mains and reports of frozen pipes cutting off water supply for PUC customers.
Greco told the Board there have been 90 water main breaks to date (including two reported Wednesday).
Greco said the average number of water main breaks, reported on an annual basis (from November 1 to October 31 each year) is 53, which means the number of water main breaks since November 1, 2013 is up by nearly twice the average amount.
In addition, the cold weather has resulted in 229 reported frozen pipe incidents since November 1 from PUC customers.
Greco said there were only five frozen pipe incidents reported in winter 2012-2013, and none at all from winter 2011-2012.
75 PUC customers are currently experiencing frozen pipe issues, Greco said.
Many of those 75 PUC customers without water are currently hooked up and receiving water from neighbouring homes.
Greco said: "There are a few that aren't."
"Some of the customers could not hook up to a neighbour because sometimes there isn't a neighbour close enough, or they can't find a neighbour who's willing to let them hook up, but most of them are hooked up."
Some customers have opted to stay with family members or friends.
Those customers affected by frozen pipes, and those neighbours supplying them with water, will be billed on the amount of water they used last year, the PUC has stated.
Randy Johnson of PUC Marketing and Customer Communications told us: "With the ground being so saturated, there's so much moisture from the heavy rain we had last fall, it didn't get a chance to leave, then we had an early start to winter and everything froze up."
"It's continuing to just harden up and the frost keeps driving its way down, and we think that's going to be pretty typical for the next six to eight weeks…we'll continue to see frozen water services and water main breaks."
PUC Vice President of Operations and Engineering Claudio Stefano told the Board: "(PUC crews) have been working extremely long hours, around the clock (to fix water mains and addressing frozen pipes), with no reprieve in sight."
Greco added it will likely be another four to six weeks before any relief is seen.
Greco said the PUC is approximately $180,000 over budget to the end of February 2014 due to the cost of fixing broken water mains from January 1 to February 28.
That expense includes labour costs and fees associated with the PUC having to bring in contractors to remove snow surrounding fire hydrants.
To pay for the cost linked to dealing with this winter's weather woes, PUC staff said Wednesday some projects might have to be put on hold moving forward, though it was not immediately clear what those projects might be.