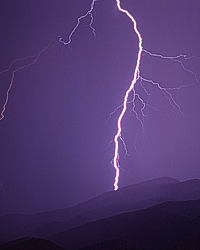 ENVIRONMENT CANADA
WEATHER WATCH
*************************
WATCHES/WARNINGS IN EFFECT FOR NORTHERN ONTARIO

SEVERE THUNDERSTORM WATCH FOR: KAPUSKASING - HEARST - SMOOTH ROCK FALLS - TIMMINS - COCHRANE - IROQUOIS FALLS - CHAPLEAU - GOGAMA.

SEVERE THUNDERSTORMS POSSIBLE THIS EVENING.

THIS IS AN ALERT TO THE POTENTIAL DEVELOPMENT OF SEVERE THUNDERSTORMS WITH LARGE HAIL.
DAMAGING WINDS OR HEAVY RAINFALL, MONITOR WEATHER CONDITIONS AND LISTEN FOR UPDATED BULLETINS.

CONDITIONS ARE FAVOURABLE FOR THE DEVELOPMENT OF SEVERE THUNDERSTORMS OVER NORTHEASTERN ONTARIO THIS EVENING.
THE MAIN THREAT WITH THESE STORMS IS HAIL TO 2 CM IN DIAMETER.
HEAVY DOWNPOURS MAY ALSO BE ASSOCIATED WITH NEARLY STATIONARY OR SLOW MOVING STORMS.

REFER TO YOUR LOCAL PUBLIC FORECAST FOR FURTHER DETAILS.
*************************