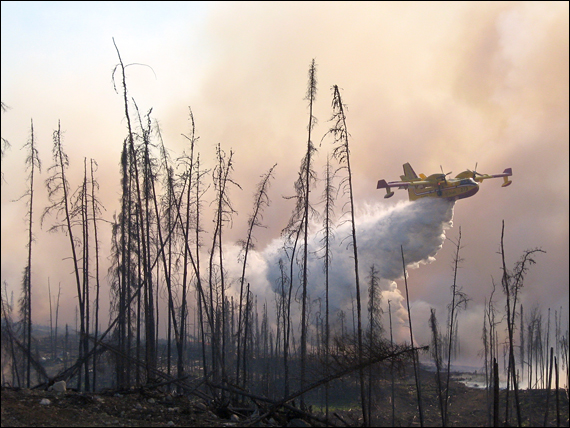 NEWS RELEASE
ONTARIO MINISTRY OF
NATURAL RESOURCES AND FORESTS
*************************
New Fires
Lightning-caused fires have been keeping Ontario FireRangers busy with 17 new starts confirmed on July 25.
There were two fires in Chapleau, seven in Sault Ste. Marie, three in Sudbury, and five in Timmins Districts.
Of the 17 fires, five have been declared out.
With lightning being the main cause, there have been some railway and human-caused fires as well.
There are crews currently actioning the active fires with no issues anticipated.
By the time of this report, one fire was confirmed. Timmins 12 is not under control at 0.1 hectares (ha) and is located near Lebell Lake.
Fire Hazard
The fire hazard ranges from low to high across the region.
The south is at a moderate hazard, central portions of the region are at a low hazard, while the far north maintains a high hazard.
With precipitation in the forecast, the fire hazard is expected to drop by tomorrow, also providing some relief on current active fires.
Regional Synopsis
There are 17 fires currently active.
To date this season, 129 fires have been confirmed, burning a total of 4,082.2 ha of land.
Out of Province Deployment
To date, there are 594 personnel from the Ontario Ministry of Natural Resources and Forestry on assignment in the Northwest Territories (125), Alberta (120), and British Columbia (349) to assist in their forest fire management efforts.
These personnel are from Aviation, Forest Fire and Emergency Services bases across the province and are FireRanger crews, Incident Management Team (IMT) members as well as specialists in areas such as fire behaviour analysis, values protection crews, liaison and helicopter coordination.
In addition to the personnel on fire assignment, Ontario is providing equipment including 400 power pumps, two thousand lengths of hose and two values protection units to British Columbia.
Crews are working long hours and will be returning home after fourteen to nineteen days on deployment.
There is a demobilization scheduled for later today, including 24 overhead staff and 35 FireRangers returning from British Columbia, as well as one overhead staff and 12 FireRangers returning from Alberta.
At this time, we hope to seek cooperation from the public in the Northeast Region to prevent human-caused fires.
The resources in Ontario are adequate for the fire situation but if even one human-caused fire can be prevented then there will be less response required from available resources.
*************************