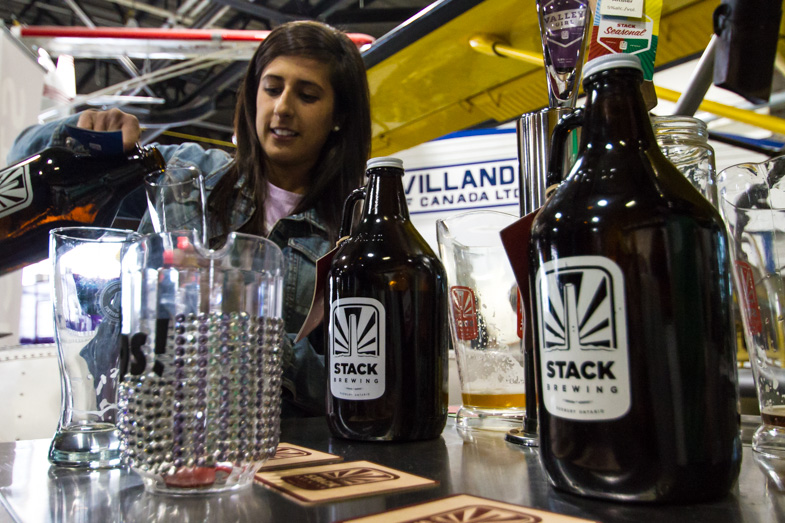 Tonight at the Canadian Bushplane Heritage Centre, we met the Farmer's Daughter, a Whistling Paddler, the Wizard Wolf, a Crazy Canuck, and My Bitter Wife.

These were just a few of the tasty beer selections available during the kick off to the 3rd annual Festival of Beer.

Seventeen Ontario breweries are represented at the two-day event, including Railway City (St. Catherines), Broadhead (Ottawa), Millstreet (Toronto), Sleeping Giant (Thunder Bay), Trafalgar (Oakville), Creemore Springs (Creemore), Lake of Bays (Baysville), Steamwhistle (Toronto), Collective Arts (Toronto), Whitewater (Ottawa Valley), Black Oak (Etobicoke), Great Lakes (Etobicoke), Bellwoods (Toronto), Labatt, and Molson.

Our neck of the woods is well represented thanks to the debut of Sault Ste. Marie's own OutSpoken Brewing and Sudbury's Stack Brewing.

Pleased as punch with the positive response, representatives from OutSpoken are pouring their signature Rabbit's Foot IPA and OutSpoken Blonde Ale.

Stack has brought with them three selections from their beer repertoire for thirsty visitors to enjoy, and was kind enough to offer the following tasting notes:
Saturday Night - 5.3% ABV - The Cream Ale style hails from prohibition era America. Barley was carefully guarded due to it's use in beer production, so brewers found new sources of fermentable sugars like corn and rice. This all-grain version gets it's sweetness from caramelized ,alted barley. Pours golden straw yellow and is smooth and thirst quenching.
Les Portes De L'Enfer - 8% ABV - Originally brewed in Belgian and French farmhouses nearly 600 years ago, this Biere de Garde (beer for keeping) was traditionally brewed in the spring with a high alcohol content to last the summer without refrigeration. Pours a deep amber colour with pleasant caramel notes accompanied with a little warming on the palate from the alcohol.
Impact Alt - This altbier, German for "old-beer", predates the 16th century. Copper-coloured with a creamy head and aromatic hop presence. Pleasant malt flavours complimented by a dry finish that will leave you ready for the next sip.
Stack beer is currently available on tap in the Sault at Loplops (651 Queen St. East) with additional locations to be added in the coming weeks.

It will also be available for purchase at the LCBO once summer arrives.

The Sault Ste. Marie Festival of Beer: The Trilogy continues Saturday at the Canadian Bushplane Heritage Centre from 1 to 7 p.m.

Food and non-alcoholic refreshments will be available thanks to the Gnarly Bistro which will be on-site throughout the day.

For further Festival information, please click here.
Additional SooToday.com and Local 2 coverage of this event