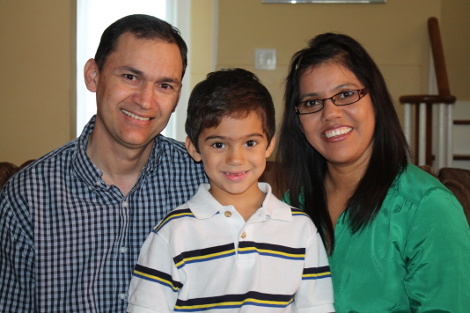 Newcomers to Sault Ste. Marie have settled in this community for a variety of reasons.
These may include career opportunities, higher education, marriage, safety from persecution in their native lands, to be reunited with loved ones, and other reasons.
For Seth and Teresa Dixon, it is their belief in God, and their lives of faithful service to Him, that called them here.
Seth, 42, and Teresa, 43, come from Honduras, in Central America.
Seth is Pastor of the 92-member congregation at Cornerstone Seventh-day Adventist Church on McNabb Street.
Speaking to SooToday.com, Seth, shown here with Teresa and their five-year-old son Brad, explained, "our Church is worldwide. We can receive a call to go serve in a congregation in Africa, or any part of the world."
The Dixons worked for the Seventh-day Adventist Church in their native Honduras, Belize and, before coming to Sault Ste. Marie in June 2011, the Cayman Islands.
Knowing that Canadian winters would be a harsh change for them and their children after enjoying the sun and beautiful beaches of the Cayman Islands, Seth told us "Teresa and I both like adventure."
"With that in mind, I would say God uses that. We have friends who would never leave their own country or their own city, and God uses them where they are. But Teresa and I like moving."
"We pray a lot. We take months to pray, to put it before God and ask Him where does He want us to go next?"
"Once that next door opens, we know it is Him opening it, and when it happens, we move through it and everything works out perfect."
Teresa told us "we felt called to come and help the congregation here, and be a spiritual help to the community. That's why we are here."
Teresa said, "we would like to see our children follow God and help people, as missionaries. If somebody needs them in other countries, we want them to go and help."
Seth and Teresa's older son Travis, 18, currently attends a Seventh-day Adventist school in Oshawa.
Their daughter Britney, 13, currently attends Cornerstone Christian Elementary School on McNabb Street.
Britney sang 'O Canada' at the Sault Ste. Marie Local Immigration Partnership 2013 Immigration Forum (attended by keynote speaker, Minister of Citizenship, Immigration and Multiculturalism Jason Kenney) at Comfort Suites in February.
Brad, five years old, will begin attending Cornerstone Christian Elementary School this fall.
Teresa is a schoolteacher by profession, and taught elementary school students in Honduras.
Though Teresa speaks English quite well (Spanish is her first language), she is currently a stay-at-home Mom brushing up on her English-language skills at Northland Adult Learning Centre.
She hopes to eventually begin teaching at Cornerstone Christian Elementary School.
English is Seth's first language, as he was raised on Guanaja, an English-speaking island off the coast of Honduras.
Attending ESL classes at Northland, Teresa says, has been a good way for her to meet people and make new friends.
Being able to mix with people of their own faith is, of course, a great help for the Dixons in adjusting to a new country.
Seth says, "once you know you believe in Christ, a follower of Christ, it brings you to people on that common ground. It makes you feel welcome wherever you go in the world."
Teresa agrees.
"It makes it easier. If God sends us to a place, we go in His protection, in His guidance. You can go anywhere when He is by your side."
That is not to say living and working in Sault Ste. Marie, experiencing the shock of Canadian winters after living in the Caribbean, is an onerous task.
In fact, the Dixons love the community.
Teresa says, "Sault Ste. Marie is a beautiful place. The people are so nice, friendly, and patient."
She adds, "there are beautiful places to walk here. I love Whitefish Island, Bellevue Park and Hiawatha."
Seth says, "the people are really nice. The fall is beautiful. The trees and the colours, it's amazing. The views, the lakes are really nice."
Seth says "I hope I fulfill the purpose God has for me here, to do whatever I can to preach the Word."
Teresa says "we want to help in a spiritual way, we have peace in our hearts, and want others to feel the joy and peace and love. Sault Ste. Marie is a beautiful place with nice people, and we know God wants us to help people here."
"We have come to cheer people, and want our children to do the same."
Seth and Teresa's stay in Sault Ste. Marie may not be permanent if they feel God eventually leads them to another place, but with a positive outlook like theirs, we hope they stay in our community for a long time to come!