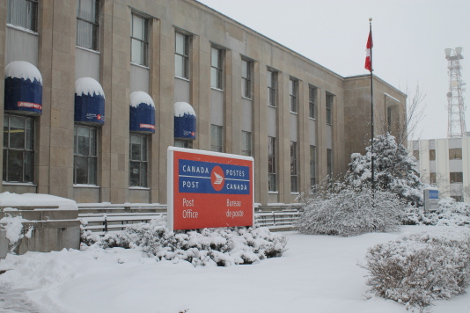 Sault Ste. Marie City Council, in its continuing concern over Canada Post's December 2013 announcement regarding planned, radical changes to its operations nationwide and the effect those changes would have locally, passed a resolution Monday aimed at getting Canada Post to wait and possibly reconsider some of its choices.
The resolution passed 10-0 by recorded vote (Mayor Debbie Amaroso was absent, as were Councillors Brian Watkins and Frank Manzo).
The resolution urges Canada Post and the federal government to put the planned changes announced in December on hold and wait for the outcome of a scheduled 2014 Mandatory Review of Operations of Canada Post, and give postal workers and the public a chance for input on the future of door-to-door mail delivery in Canada.
The resolution also calls for Canada Post to broaden its range of services, including the offering of financial services to customers (as postal services in other countries have done) to offset losses in revenue.
Councillor Terry Sheehan (who served as Acting Mayor Monday) and Councillor Joe Krmpotich gave notice at Council's January 6 meeting that the issue would be brought up for discussion at Council's January 20 meeting.
Discussion was postponed at the January 20 meeting after some Councillors indicated they needed more time to digest information sent to them in a flurry of emails and letters regarding the Canada Post situation.
Canada Post announced in December its decision to slash 6,000 to 8,000 jobs nationwide, eliminate urban home mail delivery and replace it with the establishment of community mailboxes (CMBs) in neighbourhoods coast-to-coast over the next five years, along with an increase in the price of postage stamps.
Locally, Canada Post has about 80 letter carriers and about 25 operations employees.
Canada Post states drastic changes are necessary in the face of financial losses, due to a huge increase in online communication and an accompanying decline in the amount of regular mail Canada Post delivers.
Canada Post says if the changes are not implemented, it could lose $1 billion by 2020.
The corporation expects to achieve financial stability by 2019 as a result of its sweeping changes.
Canada Post has stated the planned changes were made after public consultations were held.
The corporation held consultations in 46 communities across Canada.
Councillors have stated their concern over impending local job losses at Canada Post, the impact of community mailboxes on seniors and those with disabilities, and the impact of increased postal rates on cash-strapped individuals and families, small businesses and not-for-profit organizations.
Council heard from Sault Ste. Marie Chamber of Commerce President Mark Barsanti, who urged Council to realize times have changed in terms of urban home mail delivery and to view the changing circumstances as an opportunity to encourage entrepreneurial alternatives in mail delivery.
Council also heard from several opponents to Canada Post's plans, including Seniors Health Advisory Committee member Don Edwards, Accessibility Advisory Committee Chair Wayne King, Canadian Union of Postal Workers (CUPW) Sault Ste. Marie Local President Mike Doherty and CUPW Central Region Grievance Officer Peter Denley.
Edwards was especially concerned with the inconvenience the changes will put on seniors and the disabled, their safety at risk as they trudge through snow in heavy Northern Ontario winters to pick up their mail from community mailboxes.
An accompanying resolution, put forward by Ward One City Councillors Steve Butland and Paul Christian, was also passed, directing the Sault Ste. Marie Economic Development Corporation (EDC) to investigate what effect Canada Post's strategy would have on Sault Ste. Marie.
The resolution calls for the Sault EDC to investigate how many local letter carriers would lose their jobs or be reassigned, what plans are in place to help seniors and the disabled deal with the elimination of home mail delivery, what role the private sector can play in mail delivery, the number of community mailboxes planned for Sault Ste. Marie (CUPW representative Peter Denley told Council January 20 that close to 2,000 CMBs would be set up in Sault Ste. Marie), what considerations are being made in terms of snow removal near the mailboxes and possible theft of the mailboxes, what plans could be put in place to help local charities that rely on mail campaigns to raise funds, and what pilot projects could be put in place to deal with all of these issues.
The EDC will be required to report back to Council with its findings March 3.