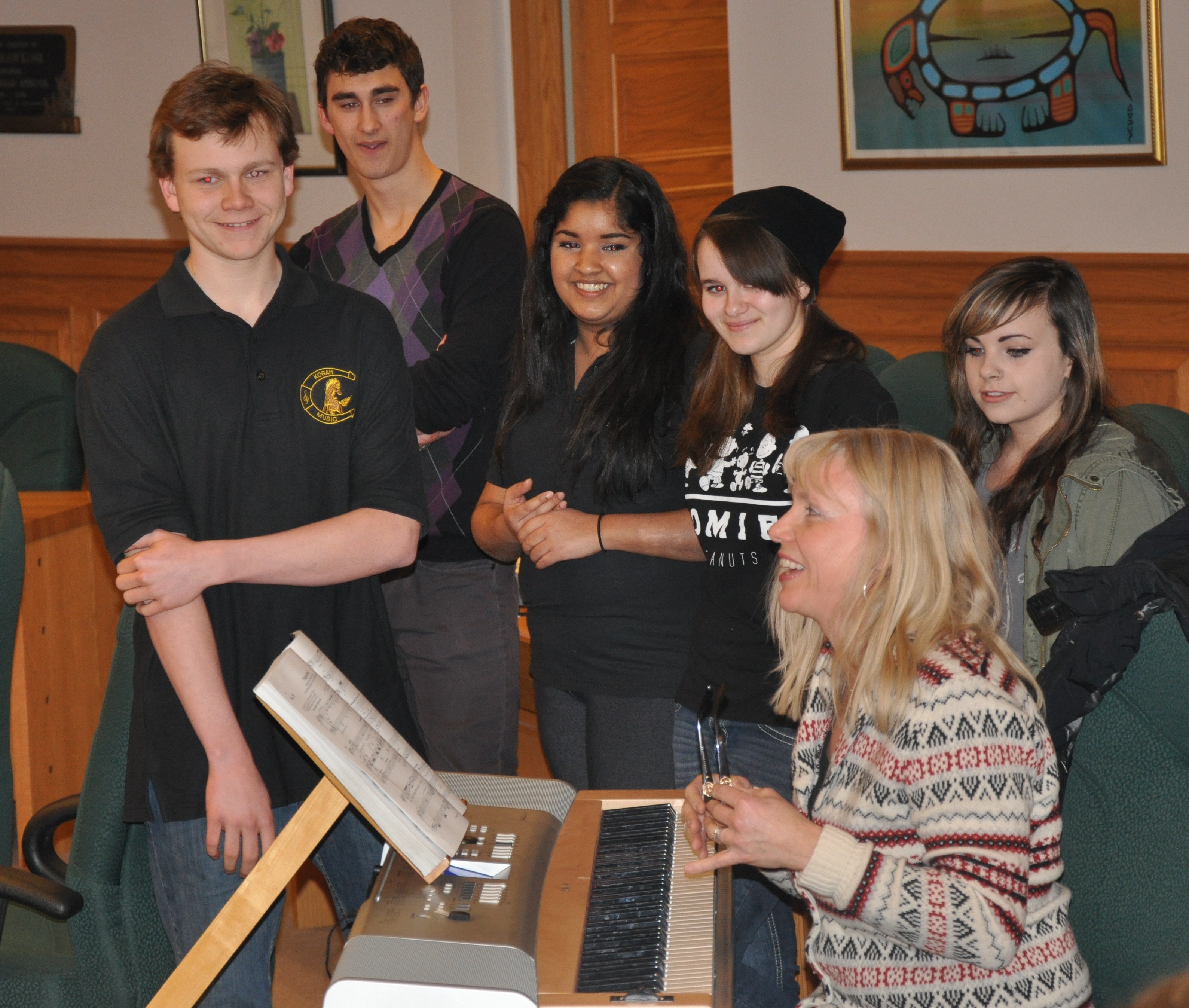 NEWS RELEASE
ALGOMA DISTRICT SCHOOL BOARD
*************************
You're a Good Man Charlie Brown
Korah's Theatre Company presented musical selections from their upcoming production "You're a Good Man Charlie Brown". The musical will be staged in the Korah Auditorium February 26 to March 1 at 7:30 p.m.

The musical premiered off-Broadway in 1967 and features all the favorites from the Charles Shultz Peanuts gang – Charlie Brown, Lucy, Schroeder, and Snoopy to name a few.
The story follows Charlie Brown as he tries to figure out what makes him happy.
Over the course of the musical and with help from his friends, he comes to realize that being a "good man" means trying your best and making the most of the things you've been given in life.
None of the cast is actually six years old and they don't look like cartoon characters! But that is part of the appeal of the show!
Tickets for Korah's "You're A Good Man Charlie Brown" are $15 for adults and $10 for students and seniors.
Friday, February 28, there will be a dinner with the show.
Dinner will be held at Korah at 6 p.m. followed by the show at 7:30 p.m.
Tickets for dinner and the show are $25 for adults and $20 for students and seniors.
Tickets will be available at the Station Mall Box Office.

Update on Kindergarten registration
Algoma District School Board's first round of Kindergarten registration dates took place in January and Superintendent Brenda O'Neill reminded the Board of Trustees that a second round of registration dates will be scheduled the week after the March Break.
Children can be registered all year long however we do encourage parents to register sooner than later.
By enrolling Kindergarten students earlier in the year, the board is able to organize classrooms, finalize staffing and ensure a smooth transition for JK and SK students during the important first days of school in the fall.

We understand that for parents there can be both excitement about their child beginning a new learning journey and also lots of questions.
Our school personnel welcome parents/guardians and their child and will address any questions they may have, not only during the registration process, but throughout the year.

Children born in 2010 may be registered for Junior Kindergarten and children born in 2009 may be registered for Senior Kindergarten.
Our website (www.adsb.on.ca) contains more information about what takes place in our Kindergarten classrooms and what documentation is required to register.

Algoma District School Board prepares to celebrate Pink Shirt Day!
For the sixth year in a row, students, staff and school communities of the Algoma District School Board (ADSB) will be wearing pink on Wednesday, February 26 to show support for "Pink Shirt Day", a national anti-bullying campaign.

ADSB Student Senate members have annually taken a lead role in this initiative and are in the midst of setting up activities designed to encourage their schools and school communities to take part.
At ADSB schools, the event has evolved into a day of celebration with a concerted focus on recognizing the importance of promoting the acceptance of all.

ADSB Student Trustees Anna Reich from Korah and Larysa Pye from Elliot Lake Secondary School provided an overview of plans being made at elementary and secondary schools.
In addition to wearing pink, students and staff are planning assemblies and rallies and are fundraising through the sale of pink cotton candy.
Anna and Larysa are also helping to spread the word to their respective communities by recording radio messages along with elementary school students, which will air on local stations in the week leading up to Pink Shirt Day.
A similar message will be recorded in Wawa for our northern communities to hear.

Pink Shirt Day is a perfect tie in to Algoma District School Board's newly developed mission statement: We build confident learners and caring citizens.
Wearing pink is just one way we demonstrate that we are caring citizens.
It is a way for our students and staff to show that we respect diversity and contribute to making our schools and communities safe and caring places.

Bullying prevention is a focus in Algoma District School Board schools all year long.
With our on-going focus on Character Education, students, staff and administration demonstrate - through actions and words - that tolerance, kindness and inclusiveness are at the forefront and contribute to school environments that foster positive self-esteem, academic success, inclusion, acceptance, respect for self and others, and connection to community.

We are so pleased that community members throughout the Algoma District continue to join us on Pink Shirt Day.
We have had restaurant staff and bus drivers, financial institutions and law offices joining us in wearing pink on Pink Shirt Day and we encourage our communities to do so again this year.
We recognize what a key role our community partners play in bullying prevention as bullying is a societal issue.

Pink Shirt Day originated in Nova Scotia, when a grade 9 boy was bullied for wearing a pink shirt to school.
Upset by what they saw, two older male students wore pink shirts to school the next day.
The students went further, purchasing pink shirts and handing them out to the student body.
Suddenly, everyone in the school had pink shirts on and the support for one young student was clear.

For more information about Pink Shirt Day activities you can visit the Pink Shirt Day website at www.pinkshirtday.ca.
*************************