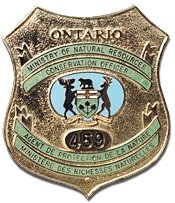 NEWS RELEASE
ONTARIO MINISTRY
OF NATURAL RESOURCES
*************************
Harassing wildlife proves costly
Two men have been fined for harassing moose with vehicles south of White River.
Sebastien Fabris of Elliot Lake and Brandon Gerrior of Sault Ste. Marie (formerly of Wawa) were fined a total of $2,750 for chasing and harassing wildlife.
The court heard that on September 27, 2012, while driving on the Paint Lake Road, the two men chased and harassed a bull moose using a pickup truck driven by Fabris. Gerrior, who was a passenger in the vehicle, recorded the incident on his mobile phone and then posted it on the Internet.
Conservation officers from the Wawa enforcement unit were made aware of the video. During the subsequent investigation, officers discovered a second video showing Gerrior chasing and harassing another moose while driving a pickup truck.
Fabris pleaded guilty on July 18, 2013, and was fined $1,000 for his involvement.
Gerrior pleaded guilty on April 18, 2013, and was fined $750, plus an additional $200 for failing to change his outdoor card contact information.
On June 18, 2013, Gerrior pleaded guilty to the second harassment charge and was fined $1,000.
Justice of the Peace Jean Marie Blier heard the case in the Ontario Court of Justice, Wawa, on July 18, 2013.
To report a natural resources violation, call 1-877-TIPS-MNR (847-7667) toll-free any time or contact your local ministry office during regular business hours. You can also call Crime Stoppers anonymously at 1-800-222-TIPS (8477).
*************************