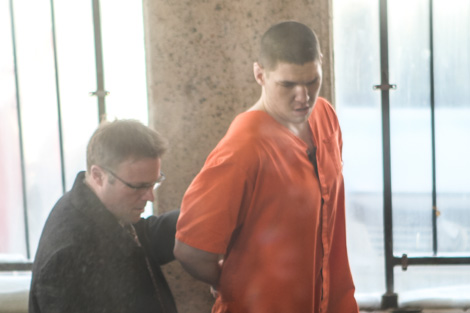 NEWS RELEASE
SAULT STE MARIE
POLICE SERVICE
**************************
On the 8th of February 2014 at approximately 5:28 p.m., city police received a 911 call to the upper apartment at 142 Albert Street East.
Upon their arrival they located 36-year-old Terrance Mingo suffering from life threatening injuries.
The investigation revealed that Mr. Mingo had been shot in the head.
On the 10th of February, 2014 just after 11 a.m., officers from the Sault Ste. Marie Police Service arrested Trevor Seaton and charged him with one count of attempt murder.
Mr. Seaton has been in custody since that time.
On the 15th of February, 2014, in the evening hours Mr. Mingo succumbed to his injuries.
On the 20th of March, 2014 at approximately 7 a.m., officers from Investigation Services attended at the Algoma Treatment and Remand Centre and informed 28-year-old Trevor George Seaton that he was being charged with one count of Second Degree Murder and one count of Breach of Probation.
At the time of the offence the accused was on probation with conditions to keep the peace and be of good behavior.
Mr. Seaton will appear in bail court this morning.
No further details are being released at this time.
**************************