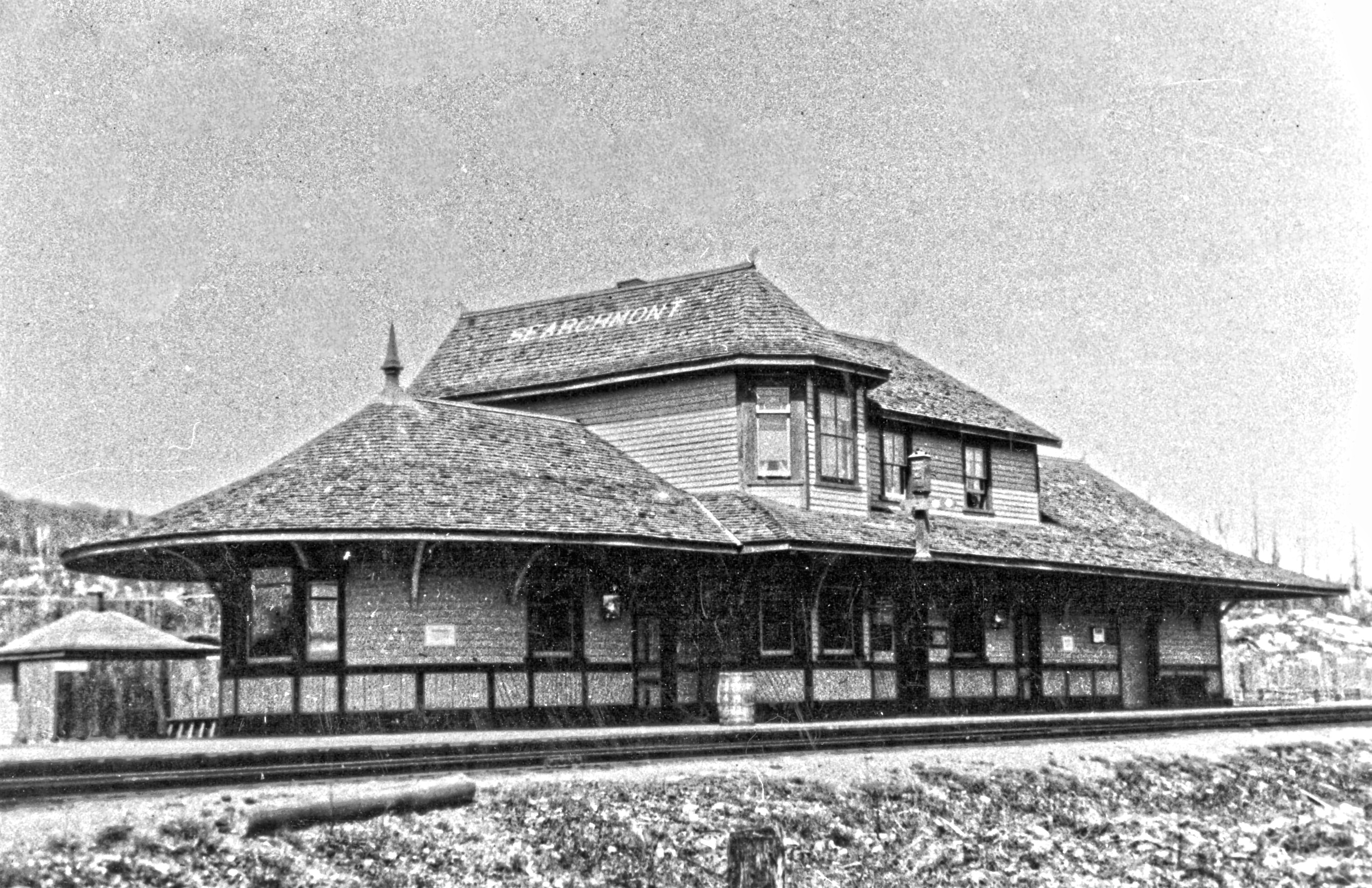 *************************
The plan for Searchmont station is to produce and restore the station back to its original footprint from 1902, when it was first built.
This includes the original freight section to the North, and the circular waiting room to the South.
Our history involves the railway, and the logging industry, and what it brought to Searchmont and creating a town that would later become a town for families and visitors to come, stay, play and relax.
The station will be planned out to be a museum, which will feature the history of the area and what it took to make Searchmont.
Searchmont boasts an area that supports tourism, outdoor activities, and an excellent ski hill and opportunities for boating, skidoo-ing, fishing and other activities.
An information building in the center of town at the station will pull all of this together as the station was always perceived as a focal point of Searchmont.
Our hope is to bring people into Searchmont to check out the history of the area and how it came to be.
Our hope is that passenger service will carry on, and be able to have passengers board and disembark, but also to try and incorporate the Agawa train to stopping at the station, as was once practice on this train, this will draw people not only to the canyon, but to Searchmont.
We hope to make Searchmont a conditional stop for all passenger trains.
We feel that by showing casing the history, others as well as youths, will be able to explore where their family members came from and to describe the story of how Searchmont came to be.
Our plan with the station is to:
rebuild it and maintain the station
operate a station selling tickets
mail service back at the station
open a small gift shop and snack shop
featuring of the heritage and history of the area, for all to see and provide future generations with the history of the area
offer the extended freight area for groups to use based on a small donation
offer the extend freight section for Sunday service for the area
Staff will be based on a group of local volunteers, and/or those that are part of the Searchmont Station Preservation & Historical Society to help with running and operating.
Donations will be sought on an ongoing basis to help maintain the station for future use.
Restoration is hopefully to begin this Fall with a new roof and either a metal or shingle roof.
The majority of the renovations and restoration are to begin next spring and hopefully be completed no later than 2020.
We are figuring that our budget will be no more than $200,000 (estimated) to fully restore this building and provide the station with environmentally new options, like solar and geothermal energy to decrease our carbon foot print and make the station more sustainable.
Raising funds will be sought through fundraising activities, awareness, promotion and donations, and support of the community.
For more information, please click here
*************************