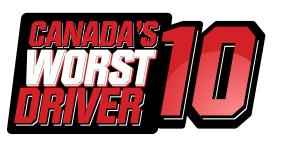 NEWS RELEASE
PROPER TELEVISION
*************************
Discovery's hit series is marking its tenth anniversary with a dedicated stop in the Sault as part of its most in-depth candidate search ever!
TORONTO - This spring the Canada's Worst Driver search team is cruising the streets of Canada, on the prowl for the nation's most dysfunctional drivers.
To commemorate the decade long series, producers will be visiting more cities and meeting with even more bad drivers than ever before.
One key stop is Sault Ste Marie, where producers are hoping to narrow in on the motorists causing the most mayhem and madness on local city streets.
But just how will the Canada's Worst Driver team track down those in need of driver's rehab?
With the help of Sault Ste Marie residents of course!
Sault Ste Marie Nominations are now being accepted for the 10th season of the series and can be made online by visiting canadasworstdriver.com.
Those selected will be given one of eight coveted spots at the Canada's Worst Driver rehabilitation centre featuring the most unique and effective training facilities in the country.
"To honour a decade of producing Canada's Worst Driver, we're launching our largest call for nominations yet, searching for the next round of terrible motorists," said Guy O'Sullivan, President of Proper Television and Executive Producer of Canada's Worst Driver.
"To find the worst of the worst, we're enlisting the help of local residents to nominate the shoddiest drivers they know. Whether it's a spouse, child, parent, friend, or co-worker, Canada's Worst Driver wants to hear from you."
Now in its 10th season, Canada's Worst Driver aims to rehabilitate the country's worst drivers by immersing them in a series of driving challenges while offering daily hands-on instruction.
In each episode, the most improved driver graduates and returns to public roads as a safer and more skilled driver.
The last man or woman standing is tagged with the dubious title of 'Canada's Worst Driver'.
*************************