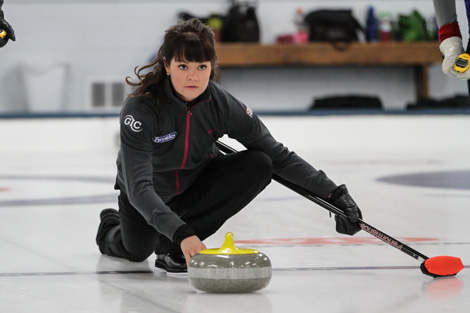 It was a disappointing start for the local team tonight as Draw 1 kicked off the 2014 Ontario Scotties Ladies Curling Championship at the Soo Curlers Association.

Dawna Premo (skip, pictured), Lindsay Miners (third), Megan St. Amand (second), and Michelle MacLeod (lead) representing Sault Ste. Marie in the tournament, dropped a rough decision to Cathy Auld's rink from Mississauga.

Both Auld and Premo scored one in the first and second end respectively before an unfortunate miss by Premo in the third allowed Team Auld to count three more.

The game continued in Auld's favour as the team scored one, two, and one before shaking hands in the sixth with a score of 8-1.

Nine other teams from across Ontario are in the Sault for the competition to determine Ontario's team at the Scott Tournament of Hearts to be held in Montreal this February.

This tournament marks the last-ever all-Ontario Women's Scotties competition before introducing separate provincial level curling championships to determine representatives from Ontario and Northern Ontario at the national tournament.

During tonight's action, Julie Hastings (Thornhill) defeated Kendra Lilly (North Bay) 7-6, Julie Reddick (Owen Sound) edged out Tracy Horgan (Sudbury) 5-4, Sherry Middaugh (Coldwater) defeated Hollie Nicol (Don Mills) 5-3, and Allison Flaxey (Listowel) beat Ashley Kallos (Thunder Bay) 7-5.

Draw 2 begins at 1 p.m. tomorrow (Tuesday) with at the Soo Curlers Association (124 Anita Blvd.) with Reddick vs Kallos, Hastings vs Auld, Lilly vs Nicol, Horgan vs Flaxey, and Premo vs Middaugh.

Curling continues Tuesday evening at 7 p.m. with additional draws scheduled throughout the week.

The championship final takes place on Sunday, January 12 at 4 p.m.
During tonight's opening ceremonies, each team was piped into the rink prior to the ceremonial opening rock thrown by the team of Sirrka Tyynela, Kristi Broad, Anne Harris and Katie Rutledge.

For additional information, up-to-date scores and live match feeds, please click here.