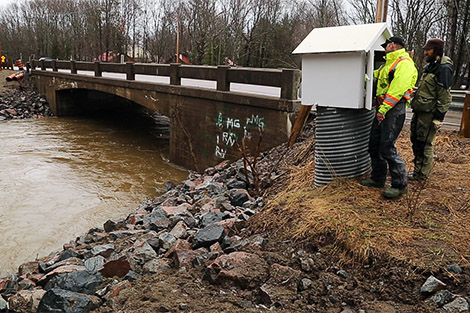 Although the Ministry of Natural Resources issued a flood warning for the Goulais River on Thursday, the waters overseen by the Sault Ste Marie Conservation Authority (SSMCA) are still below flood levels, said SSMCA general manager Rhonda Bateman.

The SSMCA manages five flood control channels, located at Bennett-West Davignon, Central Creek, Clark Creek and East Davignon as well as the spillway at Fort Creek and Bateman said Thursday the authority is watching water levels closely.
While the SSMCA watches for the possibility of future flooding, Environment Canada is working with its partner agencies to determine how previous floods changed the course of the Root River.
Stephen Hart, hydrometric supervisor with Environment Canada Water Survey Division, was on-site Thursday at the Root River checking on the flow station, which measures the level of the water, which is then compared to the flow measured with specialized floating equipment.
Hart said he believes the course of the Root River changed due to flooding that occurred in the summer and fall of 2013.
The data Environment Canada collects will be compared with past results to determine how the relationship between those two factors has changed as a result of flooding last fall.
"In the case of the Root River (flooding) last fall, it scoured the channel and moved the sediment. That relationship has changed," said Hart.
Environment Canada shares the data from its flow stations with local conservation authorities and the Ministry of Natural Resources, and manages the Root River and Big Carp River stations for the SSMCA.
(PHOTO: Environment Canada employees inspect a flow station on the bank of the Root River May 1, 2014. SooToday.com/Kenneth Armstrong)
Previous coverage of this story:
Flood warning in effect for Goulais River
Flooding potential on Goulais River 'hard to predict' says MNR (3 photos)
Conservation Authority happy with rate of melting snow