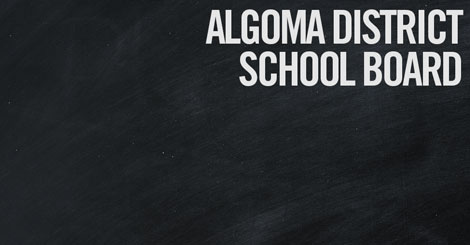 NEWS RELEASE
ALGOMA DISTRICT SCHOOL BOARD
*************************
Help us get students stretching, reaching, squatting and smiling!
GoodLife Kids Foundation announced today that the Algoma District School Board (ADSB)'s Brain Boosters program has been selected as a finalist in their National Win 4 Kids contest.
As part of the contest GoodLife Kids Foundation is giving away a total of $100,000 to programs across Canada that are helping kids have a healthier future.

All 10 finalists will receive grants but Canadians' votes will determine the amount of the grants they receive.
There is one $25,000 national prize, for the organization with the highest number of votes, along with three prizes of $12,000, three prizes of $8,000 and three prizes of $5,000.

The Algoma District School Board's submission is for a program called Brain Boosters - a new initiative that will take place across 10 pilot schools and potentially every classroom in the Algoma District School Board.
Five minute long exercise routines available on DVD will be implemented in K-6 classes.
Each Brain Booster session contains 12 unique workouts that kids can follow safely in the comfort of their own classroom.
Teachers have the ability to access these DVDs at any time during the course of the school day.

Win 4 Kids funds will go toward supporting the cost to ensure all ADSB elementary classrooms can utilize the Brain Boosters program and increase students' physical activity throughout the day.
Funds will also help ADSB achieve their ultimate goal of creating their own Canadian DVD series that they will share with school boards across the nation.

Davey Taylor, a GoodLife Fitness member and ADSB's Well-Being Special Assignment teacher who nominated the program says, "Brain Boosters gives kids an opportunity to move at any time during class to improve energy, alertness, engagement and fun. We know students sit for too long and teachers need a structured engaging tool to wake their kids up physically and emotionally."
He continues, "Our goal is to create our own Canadian version of the DVDs to be utilized Board-wide. The ultimate goal is to get all kids across the country out of their seats and moving!"

"Research indicates our youth are not engaging in sufficient physical activity and that there are strong links between good physical health and good mental health and achievement," shared ADSB Director of Education Lucia Reece. "Our goal is to get our students active while also engaging in a fun project that can be shared with other districts."

Lisa Burrows, Executive Director, GoodLife Kids Foundation echoed the reality of fitness levels in our young people.
"The reality is that only five percent of Canadian kids achieve the recommended amount of daily physical activity. GoodLife Kids Foundation believes we can change that reality and that is why we are excited to be holding our Win 4 Kids contest again this year. Through support of fantastic organizations like our ten finalists, we can work towards our vision of providing every Canadian kid the opportunity to live a fit and healthy good life."

The finalists will receive their funding from Win 4 Kids at this year's Spin4Kids Plus event taking place across the country on Saturday, March 7.

Canadians can vote by going to www.win4kids.com.
Algoma District School Board is hoping to recruit as many votes as possible as there is only one vote per person.
Voting Begins February 2 and goes until 11:59 p.m. on March 6 2015.

In addition to voting, you can support your organization by spreading the word in your community: share the GoodLife Kids Foundation Facebook page, connect with @goodlifefkids on twitter and join the conversation using the hash tag #Win4Kids.
*************************